Dir: Jacques Becker | Cast: Gerard Philipe, Anouk Aimée | Lilli Palmer | Drama France, 108′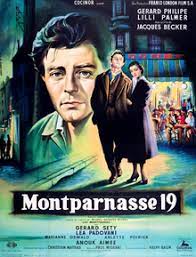 The Grim Reaper casts a long shadow over this film depicting the final declining months of Amedeo Modigliani – one of the giants of 20th Century art – who, in January 1920, died in Paris in poverty of tubercular meningitis aged just 35. The original director Max Ophuls had died suddenly at the age of 54, and both his replacement as director and the film's star were dead within two years of its completion.
Had Ophuls lived we would now be contemplating a very different film – probably in colour and alive with his trademark dolly shots. Having already shown the seamier side of the Belle Époque in Casque d'Or, Jacques Becker wasn't about to romanticise Parisian life after The Great War. In addition to making drastic changes to Henri Jeanson's script – which led to rows – Becker (who had just made his two worst films, both in colour, which put him off making a third), instead of lifting the soul by concentrating on the art as posterity's triumph over the life – as had Lust for Life – takes us on a bleak, monochromatic tour of the lower depths of Modigliani's cramped and thwarted mortal existence; his mental and physical decline reflected in Paul Misraki's sinister score.
The film already carries an on-screen disclaimer that it takes liberties with historical fact; and good as they both are as the two doomed lovers, it's hard to believe the ethereal Gerard Philipe as the sort of brute who could possibly strike a woman, while Anouk Aimée – who has just celebrated her 89th birthday – looks more like a chic fifties left bank existentialist than a vulnerable little waif. A vibrant Lili Palmer, however, is spot-on as Modigliani's bohemian ex-lover. Representing the art trade, Lino Ventura looks as if he's barged in from the set of 'Touchez Pas au Grisbi'; and the final shot of him greedily rifling through Modigliani's artistic legacy is not for the faint-hearted @Richard Chatten