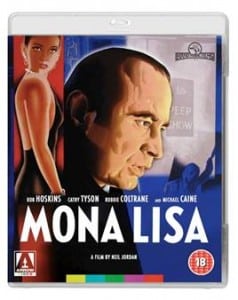 Director: Neil Jordan
Cast: Bob Hoskins, Michael Caine, Cathy Tyson, Robbie Coltrane
103min  UK   Crime Drama
MONA LISA has Bob Hoskins scraping the barrel as soft-centred, hard-bitten petty crim George, who takes a job as driver for Cathy Tyson's elegant intelligent "tall thin black tart" in London's West End, after a spell at Her Majesty's pleasure. Against his will, he gradually falls for Simone as she conspires to bring down local kingpin Mortwell (Michael Caine in fabulous Cockney form) and rescue an underage hooker from the grips of her ruthless pimp.
To contemporary audiences MONA LISA's themes of prostitution and a lesbian subplot may come across as rather quaint, but Neil Jordan's well-crafted and suspenseful crime-land thriller is a tightly-scripted exploration of sexual and racial tensions that morphs into a tender love story against the gritty backdrop of eighties Britain on the cusp of the Big Bang.
Following in the footsteps of A Long Good Friday, Hoskins plays another type of gangster here: down on his luck but not without redemption or decency. As George gets gradually sucked into the story he realises that romance with Simone is futile despite the renewed vitality and hope it offers after his prison years. Hoskins gives another vibrant and authentic turn that lifts this average gangland crime caper, scored by Nat King Cole and Phil Collins'  love songs, into the realms of something unique and special.  MT
Hoskins garnered an Oscar nomination as well as winning Best Actor awards at Cannes, the BAFTAs and the Golden Globes, and MONA LISA remains one of his greatest roles.
A 2K REMASTER IS NOW ON DVD | BLU | COURTESY OF ARROW FILMS