Director: Alexandros Avanas      Writers: Alexandros Avanas, Kostas Peroulis
Cast: Themis Panou, Constantinos Athanasiades, Chloe Bolota, Chloe Athanasiades,
98mins  *    Greece     Drama
A nasty, evil and smug drama that surrepticiously feeds on man's sexually exploitative nature couching it in a wrapping of finger-wagging worthiness in an attempt to capitalise on the success of recent tales of family dysfunction such as Giorgos Lanthimos' Dogtooth and Michalis Konstantos' Luton, from the Greek New Wave.
Suffocating in a sickly pastel aesthetic even the cast look drained and inanimate although Themis Panou is far from that, playing the debauched and controlling 'pater families' that won him Best Actor at the 70th Venice Film Festival.  In a performance of venal subtlety, you hardly notice him  any more than you might the insipid stranger who is later found flashing in the dimly-lit park.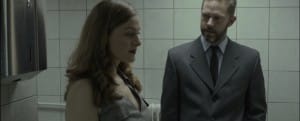 On daughter Angeliki's (Chloe Botota) 11th birthday, she jumps unceremoniously from the family's ghastly appartment balcony after tea. Social services are keen to keep an eye on proceedings and, no doubt, lessons will be learnt, or will they?.  The eldest daughter, Eleni (Eleni Roussinou), announces her pregnancy but she could well be the nanny judging from her mother's distant and slightly irritated reaction to the news.  MISS VIOLENCE is a buttoned-up, bewildering drama that has you constantly trying to work out who's related to whom and how. As the father, Themis Panou behaves more like his daughter's husband, dispassionately discussing details of her menstrual cycle, organising the kids and doing the school run.  His wife, the matriarch, (Reni Pittaki) feels more like the grandmother here, as turgid as a lounge lizard with her slothful eyes. Sissy Toumasi stands out as daughter Myrto, a spirited teenager who's desperately going against the grain in her hope of a more fulfilling existence.
What gradually unfolds is as nauseating and unpalatable as the three-piece suite in the family living room. Well-performed and competently crafted, Avranas' feature nevertheless feels a cheap and gratuitous example of modern European cinema from a country whose morals seem to go hand in hand with its lax financial probity. MT
MISS VIOLENCE WON BEST ACTOR (THEMIS PANOU) AND BEST DIRECTOR (ALEXANDROS AVANOS) AT THE 70 VENICE INTERNATIONAL FILM FESTIVAL 2013.
NOW ON GENERAL RELEASE FROM 20 JUNE 2014
[youtube id="rZ63JuWkSh4″ width="600″ height="350″]