Director/Script: Sean Ellis
Cast: Jake Macapagal, Althea Vega, John Arcilla, Ana Abad-Santos, Miles Canapi, Moises Magisa
90min          Crime Drama     UK
British director, Sean Ellis, started life as a  fashion stills photographer in the nineties.  His film debut was born out of a short of the same name Cashback (2006).  His second feature, a critically-acclaimed psychological thriller The Broken (2008) starred Richard Jenkins and Lena Hedy.
Metro Manila contains no famous actors and although the initial treatment generated keen interest, his quest for authenticity and his desire to shoot the film in local Tagalog language made the project a hard sell to financiers. The story centres on a young couple of economic migrants with two small kids who move to the violent urban conglomeration of Metro Manila from the countryside, in a bid to survive.
Fortunately for us all, Ellis succeeded in filming and financing his endeavour and the native language adds authenticity and an exotic edge to this first rate crime drama which completely transcends its need for subtitles, such is the power of the cinematic narrative, and is one of the best thrillers I've seen for some time.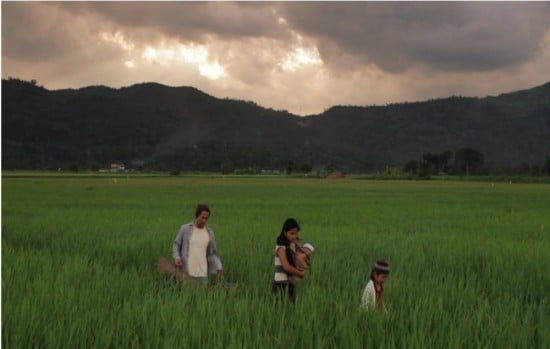 To illustrate the extreme measures to which the central character, Oscar Ramirez, is forced to go to, Sean Ellis took, as inspiration, the true story of one Reginald Chua whose father was murdered by rivals envious of the success of his silk factory.  Eventually, their threatening behaviour to his workers became so serious that we was forced to shut the factory and go bankrupt. Facing mounting debts, he boarded a plane and forced the passengers at gunpoint to hand over their money. He then jumped out with a parachute made from the silk of his father's factory.
Poetic in feel and sumptuously shot, Metro Manila is a beautiful thriller: Sean Ellis's skill with his lenses, the lush tropical countryside, and the gentle-looking Philipino leads Jake Macapagal (Oscar) and Althea Vega (Mai), who give natural performances and their lovely children make this a pleasurable watch that feels refreshingly thoughtful as a counterpoint to the mounting suspense it generates.
Metro Manila starts as a quietly realistic story set amid the paddie fields as the family  leave their farmland and set out on a colourful bus journey to the city. But a sinister edge soon sets in when they fall amongst thieves a few hours into their arrival they are firstly swindled by a rogue landlord and then turned out into the street. Greedy employers exploit their honest naivety, seeing them as a soft touch and setting out to take advantage of their lack of guile.  It's a sad state of affairs: Mai is working as a hostess in a lap-dancing club and Oscar partners a corrupt guard dealing with laundered cash for a security firm. They find themselves in a filthy flat on the slippery slope to hell with only their love for each other and their faith in God to redeem them.
Proceedings turn increasingly tense as Oscar's job feels like a game of Russian Roulette due to the mercurial and unpredictable character of his shady partner Ong (John Arcilla). His lack of shrewdness threatens to land him in deep water but Oscar is no fool and manages to stay ahead of the game as the final denouement is ingeniously unwrapped in the final seat-clenching moments. You'll never guess the ending. MT
Metro Manila won the Audience Award for best drama at Sundance Film Festival 2013 and BEST FOREIGN FILM at the BIFA 2013. It is the British submission for BEST FOREIGN LANGUAGE FILM AT 2014 ACADEMY AWARDS 2013