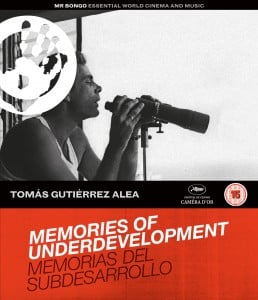 Dir/Writer: Tomas Gutierrez Ales (based on the novel by Edmundo Desnoes) DoP: Ramon Suarez, Editor: Nelson Rodriguez, Score: Leo Brower | Cast: Sergio Corrieri, Daisy Granados, Eslinda Nunez, Beatriz Ponchora | Docudrama | 104min
The date is 1961 and the suave figure of Sergio (Sergio Corrieri), the passionate intellectual star of Tomas Gutierrez Alea's Cuban masterpiece, lopes like a jaguar moving through the capital of Havana, a town that is like an exotic old cougar caught in the headlights of the 'modern' world; world-weary, yet cannier than time. Saying 'goodbye' to his bourgeoise wife, bound for the delights of Miami with his parents, he returns home, a king in his own country caught between the past and the future.
MEMORIAS DEL SUBDESARROLLO is a drama about his daily life set against the backdrop of post-revolutionary Cuba, combining news footage, archive photos and a langourous romantic interlude he shares with a coquettish young woman Elena (Daisy Granados) – who later takes umbrage at his advances: "Everything happens to me too early or too late," says Sergio, a man with European sensibilities – too soigne for Cuba yet almost too sophisticated, in every sense, for the brashness of '60s Miami. He toys with writing a novel about the state of the country, but his ideas are too advanced. Perhaps if the revolution had happened earlier, he tells himself, he might have understood.
After attempting to civilise Elena, it emerges she is too tethered to the old world, not endowed with the faculties requisite for her desired transition to wannabe stardom. "She doesn't relate things," he tells himself. "It's one of the signs of underdevelopment." There are trips to the galleries and even to Hemingway's house (with filmed footage from a Death in the Afternoon-style bullfight): "He said he killed so as not to kill himself,".
Looking out over the vast port complex from a telescope in his apartment window, Sergio observes the birds eye-view of Havana, stretching out into the vastness of the ocean. The director deftly combines shocking news footage with glimpses of the current political scene in this spicy and often poignant 'point-de-vue' that distills the essence of the extraordinary country.
One imagines that this is a semi-autobiographical work for Tomas Gutierrez Alea, who was roughly the same age as Sergio when he shot the film, observing Fidel Castro's political post-revolutionary machinations with an alienated eye.
This is a monumental film of great integrity: passionate and quietly moving. A testament to the '60s with great courage and insight, skilfully edited by Nelson Rodriquez to engage and inform – without meandering or erring into the realms of small-mindedness in a small town way. Apparently, Edmundo Desnoes was positive about the film saying of Ales (according to the NY Times)  that he "objectivized a world that was shapeless in my mind and still abstract in the book. He added social density. . . ." Certainly one of the most outstanding films of Cuban cinema along with Mikhail Kalatozov's Soy Cuba | I am Cuba (1964). MT
AVAILABLE on BFI PLAYER and on bluray COURTESY OF MR BONGO FILMS