Director; Colin Peter Netzer   Writer: Tudor Voican
Victor Rebengiuc, Camelia Zorlescu, Radu Beligan, Mircea Andreescu, Ion Lucian
103mins  Black Comedy Romanian with Subtitles
[youtube id="NDw6CkmjCjg" width="600″ height="350″]
With Remembrance Day still fresh in the memory, Medal of Honour seems a good film choice for the Romanian Film Festival in London which opens on the 22nd November 2012.
Medal of Honour gives a valuable insight into Romania's cultural heritage under Fascism and its post-Communist transition, it also showcases a subtlely nuanced turn from one of Romanian's best known actors Victor Rebengiuc. Set in the wake of Ceausescu's epic fall from grace after a repressive regime, Medal of Honour doesn't take itself too seriously and Tudor Voican's witty script makes it a comic success and an entertaining piece of cinema.
The story centres on Ion (Victor Rebengiuc) an ageing WW2 veteran living quietly with his wife Ninotchka, (a saturnine Camelia Zorlescu) in an apartment block somewhere near Bucharest.  The heating is dodgy and the plumbing would work better if Ion didn't store his secret stash of liquor in the cistern.  So deprivation and frugality are the order of the day in this arthouse drama that benefits from Liviu Markghidan's pristine visual treatment.  I
Ion still uses his army knife for cooking, and, given the chance, would use it to do away with his grumpy wife, who doesn't seem to understand his need for intimacy. Romanians of this generation have known bad times and hardship is very much hard-wired into the psyche and treated with philosophical good humour and dogged determination and this is reflected in well-crafted characterisation and a strong support cast.
The unexpected arrival of a letter informing Ion that he is to be honoured with a gold medal for his wartime services is the trigger that sets him off on a nostalgia trip back to his glory days and feeling chipper he to sets off to share his wartime tales in the light of his newfound status but also trying to work out what he really did to earn the medal fifty years previously: was it defending the Germans or turning against them?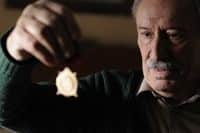 The Bureaucracy of Communism is still a thorn in the side of Romanians and runs like steel wire through their cinema up to the present day in features such as Aurora and the highly-acclaimed 4 Months, 3 Weeks, 2 Days, long after the Iron Curtain has fallen.  Its presence is felt along with a sense of the absurd depicted here in comic scenes with the postmistress at the Ministry of Defence. But Medal of Honour isn't just about a veteran and a gold Medal, it's a portrait of family values and friendship that shines brightly through the murkiness of a tumultuous past. MT