Dir: Karen Cinorre | Cast: Grace Van Patten, Mia Goth, Juliette Lewis, Sam Levy, Soko, Havana Rose Liu, Lucas Joaquin | US, 2021, 90′
Sumptuously shot in Croatia, Karen Cinorre's action drama debut doesn't quite live up to the promise of its slick production values – the atmospheric impact undoubtedly leaves the audience spellbound – imaginatively re-working of the Siren's myth. But the narrative is too often oblique and somehow even at odds with the message, although it's worth a watch for its female centric storyline and focus on empowerment. There are some terrific performances too – especially from the much-underrated Juliette Lewis.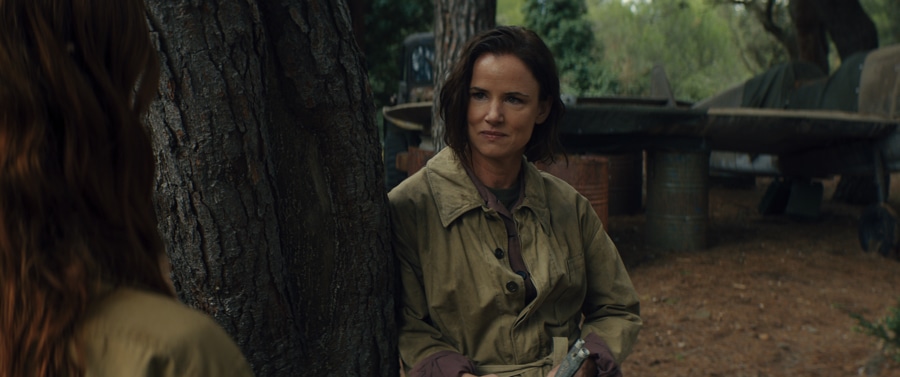 Ana (Van Patten) is working as a waitress at a wedding reception in a hotel near a beach. She comes across as a troubled character (reason not given), but things get worse when she is raped (off-screen) by the manager. We also meet the anxious bride (Goth) and Dimitri (Pellerin), a war photographer and friend of Ana, and supervisor June (Lewis).
Distraught, Ana causes an electric blowout and puts her head into an oven. She is catapulted into a different word, landing on an island where she joins the bride from the wedding who now calls herself Marsha and leads two other women guerrillas, Bea (Liu) and Gert (Soko), on a defunct U-boot. June is also part of the female force in this enigmatic war where Ana takes refuge in the woods and is – once again – nearly raped by an invading soldier. It soon becomes clear that the four women are luring pilots there with Mayday calls to the island. Survivors are then shot. For no apparent reasons, Ana decides to return to her former existence after meeting Dimitri again after he lands with his parachute in the woods.
A musical number with male soldiers (Busby Berkeley style) is entertaining, even though rather unexplained. Finally, Ana jumps into the sea to reach the beach hotel aided on her eventful journey by the trio she left behind.
Mayday tries very hard to be enigmatic, starting with the – often repeated – titular Morse sequence Mary-Alpha-Yankee-Delta-Alpha-Yankee with which the women warriors lure their prey to the island. Somehow, the effect is a reverse Peter Pan scenario, with some 'Narnia' thrown in.
DoP Sam Levy tries successfully to enhance the bizarre setting with moody dreamlike images and Van Patten acts the 'girl-lost' part in both universes with great sensibility. But overall there are too many question marks: we totally get it that we have entered an allegoric world. But it is one without inner logic, since the obviously talented filmmaker Cinorre is let down by her own script. AS
SUNDANCE FILM FESTIVAL until 3 FEBRUARY 2021