Dir/Wri: Nawapol Thamrongrattanarit | Cast: Chonnikan Netjui, Patcha Poonpiriya | 127' Thailand   Drama
The second film from Nawapol Thamrongrattanarit, Mary Is Happy, Mary Is Happy follows in the footsteps of the Thai director's debut, 36, by continuing his examination into life in the digital age. Much like 36, Mary… concerns itself with our relationship to technology, this time looking specifically at the effect social media has upon narrative forms – not only conventional storytelling, but also the way that we as individuals attempt to construct narratives out of our lives.
Adapted from 410 consecutive Tweets from a real life Twitter user, @marylony, Mary… is by nature a bitty, picaresque affair (the source Tweets are presented as on screen text, the noise of typing ringing beneath them on the soundtrack). Ostensibly, the Tweets have been worked into a narrative concerning Mary's attempts to finish her school yearbook in time for her graduation, but by following the free-flowing stream of @marylony's twitter feed, Thamrongrattanarit's film has no choice but to adapt to a similarly free-form approach, both in style (handheld and jump-cut) and narrative.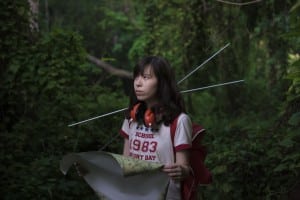 Indeed, in just one of many reflexive moments within the film, even Mary says that she seems to do things randomly and for no reason. Thamrongrattanarit has said that, in part, the film is meant as a play on the scriptwriter's control over narrative, but when Mary asks if there is 'some force controlling my life' the question can be understood just as easily as a theological concern as it can a reflexive statement. However, by posing questions about narrative authorship within film, Mary… also examines the way people author their own lives on social media. Like conventional storytellers, users of social media sites open windows through which their audiences can come to engage with their created protagonists, be they real or imagined (or a mixture of the two). Whether they realise it or not, Twitter users are unfolding a narrative and revealing something of themselves with every single Tweet they publish. In a world crammed with information, there may never have been a bigger need to turn our lives into stories, and Mary… raises important questions concerning randomness and predestination.
So it's a shame, then, that the film never quite comes to life. It's filled with humour and captivating moments, but at 127 minutes its looseness begins to feel baggy and tedious. But if Mary… fails to recreate the magic of Thamrongrattanarit's pitch-perfect debut, it is nevertheless an interesting experiment, and certainly marks him out as a director to watch.  Alex Barrett
MARY IS HAPPY, MARY IS HAPPY | WE ARE ONE FESTIVAL 2020 4 June 2020