Dir: Reiner Holzemer | With Sandrine Dumas, Pierre Rougier, Lidewij Edelkoort, Cathy Horyn, Jean Paul Gaultier, Carine Roitfield  | Doc, 90′
Early on in his transformative career elusive clothes designer Martin Margiela cottoned on to the fact that anonymity and exclusivity meant power in the fashion world. During his career Margiela reinvented with his innovative designs and revolutionary shows; never compromising on his vision. After abruptly leaving fashion in 2009 he is now regarded as one of the most influential designers of modern times. Reiner Holzemer's (DRIES) film presents a never-before-seen, exclusive look inside the creative mind and vision of Martin Margiela.
This frank and fascinating new biopic is the third film to scope out the life of the 62-year-old Belgian maverick whose vision turned the tables on high glamour to offer a softly deconstructed version of Rei Kawakubo's Avantgarde label Comme des Garçons.
We don't meet him but we do get to see his graceful hands moving swiftly on the pattern cutting table ("I liked his hands," comments one model, "When he dressed you backstage it was with finesse."). Meanwhile his soothing narration conveys a slightly insolent, provocatively subversive figure. Margiela gives a reason for this reclusiveness, and we discover it was not a sales ploy: "Anonymity, for me, was a kind of a protection — that I could work. And the work was hard. And that I had nothing on my schedule, like all the appointments one can have with press. I'm not against those appointments. But I could not cope with them. They would bring me out of my balance."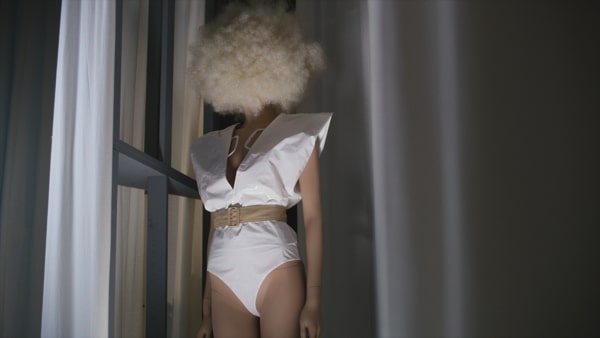 Using the usual talking heads approach combined with archive footage of the shows and the models, seasoned fashion documentarian Holzeme conveys Margiela's subtle thoughtfulness as he prepares for the "Margiela/Galliera, 1989-2009" exhibition, a 10-year retrospective that took place in the Palais Galliera fashion museum in Paris.
Born on the 9th of April 1957 in Leuven, Belgium, Martin Margiela remembers watching his dressmaker grandmother cutting patterns and then making them up. She was the most important influence in his life, but he also impressed by the Courreges models at a show on TV in 1966 – they wore opaque white glasses and white toeless boots with a white cotton summer dresses and that captured the young Margiela's imagination. Attending the Royal Academy of Fine Arts in Antwerp he graduated in 1979 just a year ahead of the design collective known as the  'Antwerp Six' which included Dries Van Noten and Ann Demeulemeester. From the early 1980s he developed his distinct concept and vision and after a spell with Gaultier's mentoring ("Martin you don't realise you have a style and a taste, and you should stick with that taste for your future") he went on to found the ready to wear label Maison Martin Margiela with fellow Belgian Jenny Meirens in 1987.
The first show in 1989 embraced the label's deconstructed aesthetic, taking place in an abandoned kids' playground in the suburbs of Paris where fashion luminaries mingled with ordinary locals hanging out and cheering in a rock concert ambiance (echoed here by a offbeat soundtrack by the Belgian rock band dEus). Margiela models wore heavy make-up and messy hair and were heavily scented with Patchouli when they took the catwalk.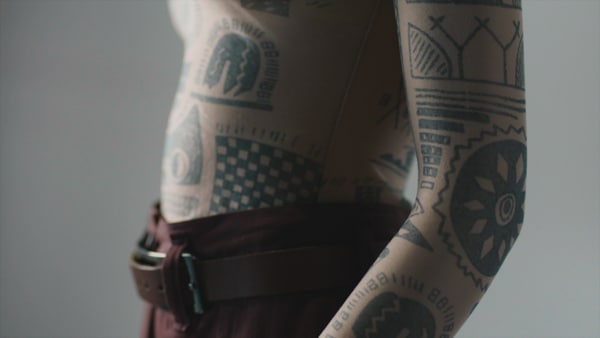 Rather than concentrating on intricate couture and exquisite fabrics like Dior and St Laurent, he focused on the look and image and the message he was sending out to his fans: One iconic design involved photographing a garment in black and white and then printing the flat image directly onto the fabric to achieve a tromp l'oeil look. Another was his cloven hoof "Tabi" high-heel boots. Often he shot black-and-white cinema verité-style short films to showcase his collections.
Margiela put the counter-culture on a pedestal and made it cool. But the often violent reaction against his rebellion was another factor that sent him behind closed doors, shunning the press and avoiding interviews. In this way his anonymity became vital to his work, helping him to retain his integrity of vision which he felt would be dissipated by negative reactions if he allowed the outside in. In the end, his lack of a public persona became irreverent because of the strong message of his work. Other standout shows would see his models wearing masks or with wigs covering their faces giving them a 'back to front look' that somehow evoked insularity. Garments were often fashioned from bits and pieces of socks made into tailored garments. The silhouette was long and wide at the bottom, with a focus on the shoes. "When you look at the shoulders and the shoes, they dictate the movement of the body, and that's what I'm interested in."  Mixing second hand clothes with new designs – his 1991 collection involved long dresses often worn coat-like over teeshirt and jeans, and left open at the back.
Paris allowed him to experiment and be free. Rather like Prada's little red tag, the calling card of Margiela's brand was the invisible label framed by four whites stitch marks. Margiela would enjoy working with a number of fashion houses, one in particular was the supremely classic house of Hermès where he was creative director for six years from 1998. Seeing the big picture, he went to the essence of the brand and managed to create something unique but at the same time classically elegant; balancing grace, comfort and timelessness in subtle tones and hues.
During the 1990s the label generated a keen celebrity following of Cher, Gwyneth Paltrow and Amanda Peet and there were flagship boutiques in Los Angeles. But he suddenly stepped back claiming he had drifted away from his focus: "By the end, I became, in a certain way, an artistic director in my own company. And that bothered me, because I'm a designer. I'm really a fashion designer, and a designer who creates, and I'm not just a creative director who directs his assistants." His abrupt parting with the brand in 2008 meant he was unable to say goodbye to his collaborators and contacts. And this film is another tribute them.
Today Margiela paints and sculpts and continues to live in solitude. But the takeaway from this informative film is his response when asked if he is done with fashion. The answer is a firm'No'. MT
ON DEMAND COURTESY OF DOGWOOF