Dir: P Ebersole and Todd Hughes | US Documentary with Kenneth Anger, Richmond Arquette, Ann Magnusson, John Waters, Mary Woronov | 84′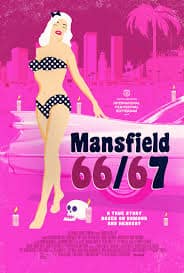 The real Sixties sex symbol Jayne Mansfield is never really revealed in this frivolously flirty film that floats around aimlessly in exploring her ill-fated final years.
Mansfield 66/67 is all bells and whistles as it careens chaotically through the blonde bombshell's short-lived career – she died aged only 34 in 1967. Taking as its informative talking heads John Waters, Mary Woronov, and Kenneth Anger (et al) this is a light-headed piece of entertainment from the pair who brought us Hit So Hard that explored musician Patty Schemel's descent into drug abuse.
It turns out that Mansfield was not just a pretty face or a stunning figure, for that matter: She was a polished publicity machine. Beyond that we learn nothing about her formative years or her movie career, although her death in Louisiana in a freak car accident in 1967 is much discussed and debated, along with her "Faustian" association with the Satanist Anton LaVey. It comes as no surprise to find out she very much enjoyed sex: "it should be animalistic, it should be sadistic, it should at times be masochistic…There are few rules and moral conventions".  She also loved being a mother to her five kids, starting at age 17. According to her (convincing) funeral embalmer she was not de-captitated, contrary to popular belief, but she did dabble in witchcraft (the louche LaVey was variously blamed for her death); and live in a pink palace; and drive a pink Cadillac, during a decade long Hollywood career that hit its peak in the late 1950s.
But this film is so busy flitting through its different styles of presentation – that include dance routines by a bizarre bewigged foursome and Pink Panther style animations – that the thrice-married curvaceous kitten Jayne Mansfield almost takes a back seat in her own vehicle, and ranks secondary to the stylistic flourishes of this quasi vanity project. Ironic, considering that Mansfield's career was defined exclusively by her desire for publicity "at any cost". Public property during her lifetime, post mortem Mansfield still maintains her mystery. MT
ON RELEASE NATIONWIDE FROM 13 APRIL 2018