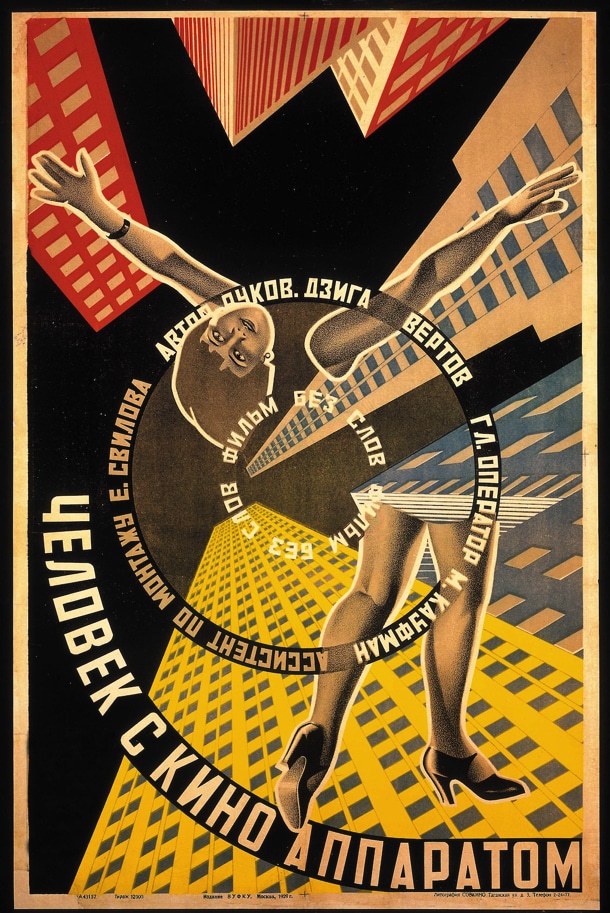 Director/Writer: Dziga Vertov
Cinematographer: Mikhail Kaufman | Gleb Toyanski
Documentary    Russia
Dziga Vertov was in his early 20s when he took a job in a Soviet news company as a film editor and cameraman working on a communist propaganda series called "Kino-Pravda" which eventually gave birth to the Cinéma Vérité movement.  So keen was he, and so energetic in his desire to record real life in 1920s Russia that MAN WITH A MOVIE CAMERA came as a natural by- product of his ramblings with a camera and his cinematographer brother, Mikhail Kaufman. Dazzlingly innovative for the time, the reason to see this documentary today is for the fascinating record of daily life in the cities of Odessa, Moscow and Kiev.
In 1929, Vertov's unique selling point for a film that was to screen all over the World before the Second World War and the Iron Curtain came down on Soviet Russia was that it transcended literature, language, sets scripts and actors to record life as it really happened to ordinary people, from early dawn after a Summer's 'White Night' to dusk the following evening.
Vertov and his wife and editor, Elizaveta Svilova, who is seen furiously cutting and piecing together the freshly photographed images to produce startlingly emotional images. Sometimes funny and sometimes mortifying, they reveal an open coffin strewn with flowers and carried through the streets or a woman in the final stages of giving birth.
At the time of its early screenings, the films  was exhibited with live musical accompaniment suggested by Vertov's notes for a soundtrack. This current restored 2K print is scored by the jazzy, percussive beats of Terry Donahue's Alloy Orchestra, a three-man musical ensemble, based in the US, who write and perform to classic silent films. Enhancing the action but never eclipsing its visual language, Vertov's documentary is propelled forward at a breakneck speed and the use of double exposures, split screens, irises and various other inventive techniques – at the time considered ground-breaking, but now looking rather quaint and adding to its extraordinary allure. But amazing as they are, the most fascinating thing about Vertov's film is the ordinary detail of daily industriousness – women going through their dressing routines – making-up, having manicures and haircuts; horse-drawn carriages hastily crossing tram lanes; the elegant deftness of a girl packing cigarettes in a factory, clever ponies working in a coal shaft, bronzed men pumping iron, sleepy children waking up barefoot in the streets – these are the memories that provide a record of the Soviet era – far away from the illusions of Politics and official news propaganda.
But it's Elizaveta Svilova's remarkable editing that really makes the film buzz with an energy and a rhythm that's quite upliting and intoxicating. During its running time of just over an hour, it's impossible to take your eyes off the screen. MT
Included is the almost unwatchably sad KINOGLAZ short MEAT TO COW that follows the boy in the market asking "how much is the beef?" backwards to the cow being slaughtered, to the Cooperative and eventually seeing him grazing peacefully in the fields. MT
THIS DIGITAL RESTORATION BY LOBSTER FILMS | EYE FILM INSTITUTE IS NOW AVAILABLE FROM 18 APRIL 2016 ALONG WITH OTHER WORKS BY VERTOV | KINO EYE (1924) | KINO-PRAVDA #21 (1925) | SYMPHONY OF THE DONBASS (1931) | THREE SONGS ABOUT LENIN (1934)