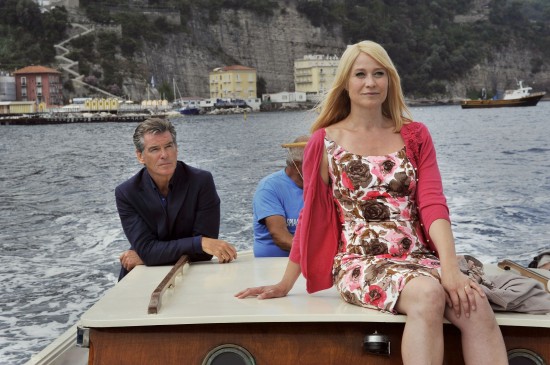 Director:  Susanne Bier
Script: Anders Thomas Jensen
Producer: Vibeke Windelov, Sisse Graum Jorgensen
Cast: Pierce Brosnan, Trine Dyrholm, Kim Bodnia, Paprika Steen, Molly Blixt Egelind, Sebastian Jessen, Stina Ekblad, Bodi Jorgensen, Christiane Schaumburg-Muller
Den/Swe/Ital/Fr/Ger                 116mins         2012               Rom Com
Even for his relatively young years, Anders Thomas Jensen has been industrious, scribing over 30 feature films, including the superlative Open Hearts, creating the characters for Andrea Arnold's Red Road and penning Joe Wright's The Duchess. This is his fifth for Bier, who also returns to her favourite DoP Johan Soderqvist, to make the most of a sumptuous Mediterranean palette.
Love Is All You Need is an unorthodox love story, ostensibly the wedding of Ida (Dyrholm) and Philip's (Brosnan) respective offspring, Astrid and Patrick, bringing everybody together in the beautiful Italian setting of Sorrento, for their impending nuptials.
However, this being a Susanne Bier film, you can depend upon things being more complicated than that. Brosnan, seems to have completely cornered the market in successful businessmen who have lost touch with their family and of course, their feelings. Here, he has plunged himself into his work, having lost his wife some years previously. Ida meanwhile, has been receiving treatment for cancer and is far from out of the woods.
Dyrholm is excellent as the sweet, optimistic but strong maternal figure; certainly the role asks a huge amount of her and she acquits herself brilliantly. The rest of the supporting cast are also exemplary, in particular, Kim Bodnia as Dyrholm's husband and the wonderful Bier regular, Paprika Steen as Brosnan's sister in law. It's a great ensemble piece, let down I'm sorry to say, by the Brit of the piece in Brosnan's unconvincing acting, particularly when asked to emote.
The story reveals itself quite early on and then it becomes a case of how things will unfold to generate the expected ending, but the characters are full and engaging, the dialogue, as expected, tight and well-observed and the beautiful setting of coastal Sorrento in the summer adds greatly to the lemon zest of the piece.
Bier remains the only Danish woman ever to be nominated twice for Best Foreign Film at the Oscars (indeed winning for A Better World) and there is no doubting why. More Rom than Com, Love Is All You Need is no return to the top of her form, but it's certainly no dog either. AT
LOVE IS ALL YOU NEED IS ON GENERAL RELEASE FROM FRIDAY 19 APRIL 2013