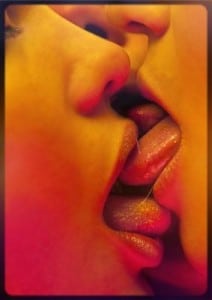 Dir.: Gaspar Noé
Cast: Aomi Muyock, Karl Glusman, Klara Kristin, Vincent Maraval
France/Belgium 2015, 134 min.
Eagerly awaited by his fans, the latest film from Argentinian-born director Gaspar Noé, enfant-terrible of the French film industry, was supposed to be his most daring, but the rumours of pornography are false, and the near total absence of violence – coupled with his usual aesthetically brilliance – make LOVE his most mature film. It may lose him some of his hard core base, but the lack of the kind of shock tactics used in Seul Contre Tous and Irreversible, will gain him new admirers, simply for his panache and technical audacity.
Shot in 3D Scope, LOVE is a melancholy love story where the anti-hero Murphy (Glusman) mourns the loss of his former girl-friend Electra (Muyock) on New Year's morning in the Parisian flat of Omi (Kristin), with whom he has a two year old son Gaspar (sic).  His regret is heightened by the fact that the three adults once had a sexually charged ménage-à-trois. Murphy's Law motto, super-imposed in big letters on the screen "If anything can go wrong, it will", becomes only too true.
As always, Noé avoids a linear narrative and we learn about Murphy's relationship with Electra, more or less in reverse order. When they meet, he studies film, she painting. Both are very naïve, and we never see them actually working on their respective craft. Instead, they have sex, clinging together for dear life. The sex lasts for about half the film. In the intermissions, they try to figure out how not to lose each other, but Murphy betrays Electra with the seventeen-year old Omi after the couple had invited her to spice up their sex life with a threesome. When Murphy visits Omi on a weekend when Electra is away, their lovemaking is interrupted when a condom breaks, and in a cut later we learn that Omi is pregnant, something Murphy is not very happy about. Murphy is very possessive of Electra, hitting her former lover, a gallery owner, over the head with a bottle of cognac. At the police station he meets friendly cop (Vincent Maraval), who tries to pacify him. They meet in a kinky sex-club, were Murphy again flips when Electra wants to sleep with another man, whilst he has at least two casual flings with women – all are Electra look-a-likes. A sad voice-mail from Electra's mother lets Murphy fear that she has committed suicide. Interestingly, he pulls away from sex with a tranny in a scene that could have been truly groundbreaking but is the only sex interlude that is cut abruptly short, with Murphy bailing out; unable to carry things through.
Aesthetically LOVE is a tour-de-force, making up for a rather limp but honest storyline: most young people are having relationships because of the sexual element – they not so concerned with philosophy or exchanging stories of the past as these are very limited experiences for them. Murphy and Electra also use drugs making their behaviour more irresponsible. Their long rant in a taxi is memorable, although rather trite, the actors are well suited to anything that places them in extra-ordinary situations. But again, this is realism. In many French films even teenagers quote Verlaine and Genet fluently, exactly in the manner written by the 30+ scriptwriters.
In Murphy's room posters of Salo, Birth of a Nation and Taxi Driver give away Noe's idols and he really has a go at Electra for not having seen Kubrick's 2001. But Noé this time refrains from using space-travel metaphysics or vagina cam-shots (apart from one brief shot of a penis from the POV of the cervix. Instead we get a penis ejaculating in 3D at the audience. DOP Benoit Debie has choreographed the ménage-à-trois between the trio like a Busby Berkeley ballet: shot from the ceiling in elegant ellipses. This scene alone is worth watching all 134 minutes, and is proof that LOVE is art and not pornography. We get a feast of conflicting and constrasting lighting, bodies shot not as objects but as passionate explorers. In some way, LOVE is autobiographical: Noé's way of apologising to some of his ex-girlfriends and is perhaps also an apology for the violence which sometimes marred his former films. This is his bid to make a film where sex and love come together, both actually and narratively-speaking. It's a success. AS
NOW ON DVD |blu-ray FROM 11 JANUARY