Director: Pascal Bonitzer
Writers: Pascal Bonitzer and Agnès de Sacy
Cast: Kristin Scott Thomas, Jean-Pierre Bacri, Isabelle Carré, Marin Orcand Tourrès
100min Drama  French with subtitles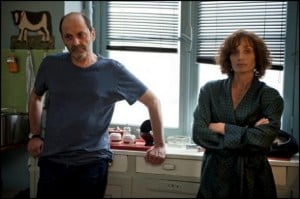 Kristin Scott Thomas and Jean-Pierre Bacri star in this intelligent Parisian drama about a married couple who've lost their spark and are slowly drifting apart.
Billed as a comedy, it's not quite up there with Bacri's previous outings Le Gout des Autres or On Connait Le Chanson but will satisfy the arthouse crowd who enjoyed Scott Thomas's performance in François Ozon's recent In The House.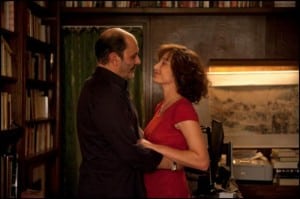 Here Bacri leads as Damien, a middle-aged professor of Japanese Civilisation whose relationship with his father is also causing him grief and diminishing his masculinity as a fully-fledged adult. Having discovered to his chagrin that theatre-director Iva (Scott Thomas) is contemplating an affair with one of her young actors, his ego is boosted by the delightful Aurore (Isabelle Carré), who he meets in a nearby restaurant. The local Asian community is also drawn in with a humorous subplot that offers a contemporary nod to multiculturalism.
Jean-Pierre Bacri is as sullen-faced as usual here and the script doesn't quite give rein to his signature deadpan humour that has made previous outings so engaging so it's a shame Bonitzer doesn't give more time to Kristin Scott Thomas's sublime acting skills and the development of her romantic story. But if you're looking for solid and sophisticated French fare, well-acted and skillfully told then Looking for Hortense will fit the bill . MT
LOOKING FOR HORTENSE IS ON GENERAL RELEASE FROM 9TH AUGUST 2013 AT WATERMANS ARTS CENTRE, BRENTFORD AND OUT ON DVD ON 2ND DECEMBER 2013