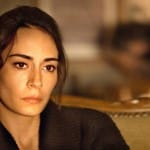 If there's a common thread that runs through Turkish cinema it lies in the vast nation's landscape and nature that shapes and often divides human relationships. And nowhere is this more so than in Nuri Bilge Ceylan's Palme d'Or winner WINTER SLEEP (2014), set in the Anatolia's mountain region of Cappadocia. Whilst the mountains represent freedom, his human characters fight it out in a claustrophobic hotel. Men are usually out of touch with their emotions in all of Nuri Bilge Ceylan's films, and Winter Sleeps anti-hero Aydin is no exception. A former actor, living from his inherited wealth his property portfolio makes him a feudal lord, even though he sees himself more as an intellectual. Living with his much younger wife Nihal and recently divorced sister Necla, Ceylan confronts him with his weaknesses, peeling away his persona away layer by layer. Ceylan pays homage to Bergman and Bresson in the long, vicious arguments between Aydin, his wife and sister where the camera catches them in shot/contra-shot movement, the close-ups showing hurt on the women's faces, and Aydin's sarcastic smile. Echoing Bresson in Au hazard Balthazar, Ceylan uses Schubert's piano sonata no. 20 to score the sequences between Aydin and his wife – the region's wild horses serve as a metaphor for their seething discontent; in a more generous mood Aydin has freed one of the beasts to return to the wild. Ceylan's intensity never lets up, leaving WINTER SLEEP as an unforgettable chronicle of human psychological warfare, amidst a towering landscape.
GRAIN (2017), directed by Semih Kaplanogu (Honey), is based on a chapter from the Quran, but can easily compete with the best of Hollywood's dystopia. A scientist working for an all-powerful Corporation, flees into the wasteland surrounding the heavily controlled city, to find a supply grain uncontaminated by GM. There he meets a stranger, who leads him to a secret location in the rugged terrain where they eventually find what they are looking for. Giles Nuttgens' stark black-and-white camerawork conveys a post-apocalyptic world, dwarfing the human element. An enigmatic narrative scratches to be heard in this devastated landscape where Ufo-like fighter planes hunt down the characters like animals. Kaplanogu's symbolism echoes Tarkovsky as his protagonists are overwhelmed by the destruction of nature, a strong 'end of days' feeling, where fragmentation triumphs over the human weak attempts to save themselves and the planet.  A terrifying and prescient drama. 
In her debut HICRAN AND MELEK, director Esra Vesu Ozcelik explores the true meaning of female emancipation in a discursive drama set in a small rural community where Iman's daughter Hicran hopes to find a decent job and a fulfilling marriage. Her childhood friend Melek left a decade ago for Istanbul, where she's been working in a night club. But her abusive boyfriend has driven her back home. The two women look at their lives but never really find any answers. Again, the landscape is shown as a feature of personal identification.
Dervis Zaim's DREAM is by the far the most ambitious feature of this year's programme. Sine is an architect who very much sides with Prince Charles' traditionalist views in her dislike of contemporary building design. But she is driven to eventually distraction when no-one will support her latest scheme for a cave-like mosque. Suffering from stress and insomnia, she goes into in a sleeping clinic. The treatment has a profound effect on her psychologically and physically: her four different identities then focus on one goal: to finish the project. Based on the 'Seven Sleepers' myth, Dream is not only a feminist manifest, but a coruscating critique of contemporary architecture.
LONDON TURKISH FILM WEEK | 12-16 DECEMBER 2018