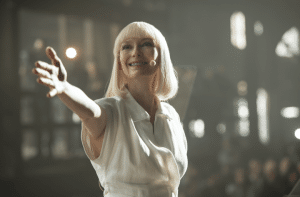 Korea has been in the news more than ever this year with a South Korean presidential impeachment and a change in government, not to mention the current North Korean crisis. Thankfully Korean Cinema has maintained a positive news profile with Bong Joon-ho's creature feature OKJA becoming the most widely seen Korean film ever made. On this note, the 12th London Korean Film festival returns to London and across the UK offering another expansive selection of films from 26 October – 19 November.
KOREAN NOIR | INDEPENDENT cinema with BANSEOUM SEOUL (Pirates Inferno) screening at the LFF  | WOMEN'S VOICES | CINEMA NOW | CLASSIC REVISITED | BAE CHANG-HO RETROSPECTIVE
This year's opening film will be Hong Sangsoo's Cannes acclaimed, THE DAY AFTER (2017) will kick-off the festival at an Opening Gala with Cinematographer and frequent Hong Sangsoo and Bong Joon-ho collaborator, Kim Hyung-ku  in conversation on the 26 October. The festival closes on 8 November (in London)  with the UK Premiere of emerging director Kim Dae-hwan's Indie relationship hit from Locarno, THE FIRST LAP  (2017) (followed by Director Q&A), which sees a directionless unmarried couple wade through family encounters and a potential pregnancy, in a fresh verité style that is both funny and heartwarming.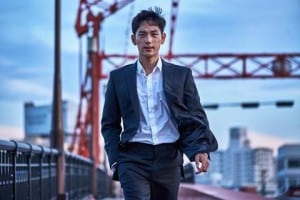 Two out of the five Korean hits to grace Cannes Film Festival this year were crime and action thrillers typical of the booming Korean Noir genre, illuminating the dark side of society: THE VILLAINESS follows a female assassin trained from a young age, and THE MERCILESS (2017, Studiocanal, premiering at LKFF 2017) from Byun Sung-hyun, is a Tarantino-esque moody neo-noir thriller following double-crossing gangsters.
The FILM NOIR strand begins with an example of Lee Man-hui's renowned anti-communist filmmaking, with one of his very early films in the genre, BLACK HAIR  (1964), which follows the loyal mistress of a gang boss, whose life takes a horrific turn for the worse after a violent rape is exposed. The newly restored THE LAST WITNESS (1980) that recently screened in Berlin and Busan film festivals, with director Lee Doo-yong, is based on a crime novel by Kim Seong-jung and follows lone wolf Detective Oh Byeong-ho as he goes in search of the murderer of a small time brewer. Film Noir was thriving in the 1990s, and we'll celebrate a strong selection from that decade: the darkly humorous DEAD END (1993), THE RULES OF THE GAME (1994) following small town thugs trying to make it big and GREEN FISH (1997), the directorial debut by Lee Chang-dong who is now widely regarded as South Korea's greatest living director.
CLASSICS screening this year will include NOWHERE TO HIDE from Lee Myung-Se (Korea's anger to John Woo, is a highly stylised violent action noir and an influence on The Matrix.
KILIMANJARO (2000) is the rarely screened, but highly accomplished feature from Oh Seung-uk, starring veteran actor Ahn Sung-ki and Park Shin-yang; an engrossing noir following a detective mistaken for his identical twin brother, a gangster.
DIE BAD  (2000) is action maestro Ryoo Seung-wan's sensational debut made in 4 parts over 3 years, following two young men (played by Ryoo and Park Sung-bin) whose lives change forever after a deadly student brawl.
A BITTERSWEET LIFE  (2005) is Kim Jee-woon's follow up to A Tale of Two Sisters(2003) a thrilling noir that shows the ultra violent consequences of falling for the wrong girl.
A DIRTY CARNIVAL  (2006) follows a low-level debt collector as he murders his way to the top, played by one of Korea's leading actors Zo In-sung.
NEW WORLD (2013, UK Home Ent. release by Eureka) is the second directorial feature from Park Hoon-jung, the writer behind The Unjust (Ryoo Seung-wan) and I Saw The Devil (Kim Jee-woon), in which undercover cops and shady policemen plot to gain control of Korea's biggest crime syndicate.
COIN LOCKER GIRL (2015) is a female crime melodrama from first time director Han Jun-Hee starring veteran actress Kim Hye-soo as the psychotic crime boss known as 'mom' whose unsavoury trade includes organ trafficking and loan-sharking.  
IN BETWEEN SEASONS (Lee Dong-eun)
CINEMA NOW strand COME, TOGETHER 
(2017)
is Director
Shin Dong-il
's new drama about a family of three whose ranks are collapsing – a rare insight into Korean society's highly competitive nature.
WARRIORS OF THE DAWN
(2017)
is the popular Joseon Era drama filmed almost entirely outdoors, as a guerilla style road movie, following a group of mercenaries tasked with protecting the newly crowned prince.
THE MIMIC  (UK release in 2018 date tbc, Arrow Films) directed by Huh Jung is a chilling K-horror that follows a woman, haunted by the disappearance of her son, who is drawn to a local legend of a monstrous tiger that lures people into its cave.
CRIME CITY (2017) is an indie crime caper based on a true story, from director Kang Yoon-sung, that follows a detective (Ma Dong-seok), as he hunts down a Korean-Chinese gang headed by Yoon Kye-sang.
WOMEN'S VOICES celebrates four drama and one documentary, CANDLE WAVE FEMINISTS (2017), deconstructs the misogyny and discrimination that was rife within the revolution that led to Park's impeachment and her spiritual mentor Choi Soon-Sil's arrest.
JAMSIL  (2016) the feature debut of writer-director Lee Wanmin, is a rare look at two women's transformative friendship, following a harrowing long-term breakup.
MY TURN (2017) focuses on pregnancy within the workplace, after a nurse becomes pregnant and tensions and backlash surface.
MILD FEVER (2017) captures the subtle rift between husband and wife, following a secret that surfaces from the past.
NIGHT WORKING (2017) follows a friendship between two factory workers, a Korean woman and a Cambodian immigrant.
Younger audiences will delight in the two Animations this year: LOST IN THE MOONLIGHT (2016) following 13 year old Hyun Joo-ri as a dreamy, shy girl who gets sucked into a fantasy world and Franky and Friends:
TREE OF LIFE (2016) is an exciting adventure in the Fairytale Kingdom, as two friends Kwon and Pong create havoc by asking for more food than they can eat, learning a useful lesson about the perils of wastefulness.
LONDON KOREAN FILM FESTIVAL London venues include: Picturehouse Central, Regent Street Cinema, ICA, Phoenix, Close-up, LUX, Birkbeck's Institute of Moving Image, SOAS, Kingston University, National Film & Television School, British Museum and KCCUK The festival tours to: Glasgow Film Theatre, Manchester HOME, Sheffield Showroom, Nottingham Broadway Cinema, Belfast Queen's Film Theatre until 19 November 2017.
LKFF | 26 OCTOBER – 19 NOVEMBER | NATIONWIDE