Dir.: Stanley Kubrick; Cast: Sue Lyon, James Mason, Shelley Winters, Peter Sellers; UK/US 1961, 152 min.
Vladimir Nabokov wrote a screenplay of 400 pages for Stanley Kubrick's film adaption of his 1955 novel – it would have amounted to a running time of over seven hours. Kubrick also had to take into account the Hays censorship code, which made it impossible to show detailed sexual aspects of the love between Humbert Humbert, a middle aged college lecturer and a twelve-year-old girl named Lolita, whose name became synonymous with any young temptress – even though she was the victim of adult male predators.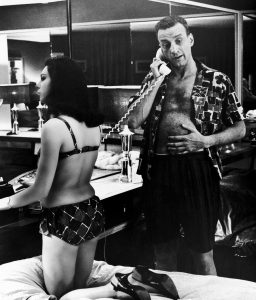 Lolita opens with a murder: a drunk elderly man is shot dead while playing Chopin on the piano. Then the linear events leading to this crime unfold: A lecturer in French literature Humbert Humbert (Mason), arrives in Ramsdale, New Hampshire, in search for lodgings. On the verge of turning down the rooms on offer from Charlotte Haze (Winters), he is just about to reject them, when he sees her daughter Dolores 'Lolita' (Lyon) and falls in love. But Charlotte has a shine for Humbert too, and drives her daughter to a girl's camp, leaving a letter for Humbert, telling him to move out – or marry her. Humbert, still obsessed with Lolita, then marries Charlotte who later reads his diary where he confesses to his love for the school girl. Charlotte runs out of the house to post a letter to the authorities, but is killed in a car crash. Humbert fetches Lolita from the camp, pretending that her mother is in hospital, but seduces the girl in a motel. They set off on a romantic adventure, and are followed by an obnoxious stranger. In the autumn, Humbert enrols Lolita in a nearby High School where she is to participate in a school play. A discussion with Dr, Zempf (Sellers) upsets Humbert and he takes Lolita out of the school, touring the country again. Finally, Lolita disappears; leaving Humbert desolate. Much later, he learns that she is pregnant, living in a tranquil suburb. He gives her money, from the sale of her mother's house, but she wants to stay with her husband Dick. She also tells Humbert that she ran away with Clare Quilty (Sellers), a famous playwright, who impersonated Dr. Zempf and followed them on their journeys. Humbert dies before the murder trial.
Kubrick set his sights on Mason to play Humbert from the beginning, but he was unavailable due to other commitments. Laurence Olivier and David Niven also turned down the part, but finally Mason took it on board. Kubrick and Nabokov were happy with the casting of Sue Lyon – who was fourteen, playing a twelve-year-old – Nabokov later admitted he would have preferred the French actress Catherine Demongeot, who played Zazie in Louis Malle's Zazie dans le Metro. Over 800 actresses had test screenings for the young Lolita. 
Meanwhile, a 1977 remake by Adrian Lyne –  much more faithful to the novel – made a colossal loss at the box office.
And while Kubrick tried to make Humbert into an "Unreliable Narrator" telling the story from his own selfish viewpoint, he fails to do the Lolita character any justice. Lolita certainly has its merits as a drama, but it's un-conceivable that such a film could ever be made today. AS
Stanley Kubrick RETROSPECTIVE | APRIL AND MAY AT THE BFI 2019