The theme of paternity and nature versus nurture has captured the imagination of directors and filmgoers of late: Place Beyond the Pines, It's All So Quiet and While I Lay Dying are some recent outings. Hirokazu Kore-eda's films tend to focus on family life and Like Father, Like Son is no exception, looking at the question of whether paternity is a genetic issue or one connected to the ties that build up gradually between parents and their offspring as mutual affection bonds them over time.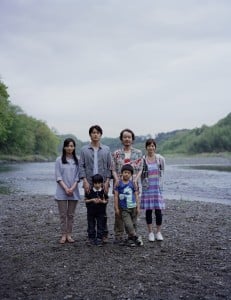 Here Japanese TV and Music star Masaharu Fukuyama brings a touch of glamour and a great of insight to the role of Ryota, an emotionally distant but sophisticated architect and father who seems to have the perfect life with submissive wife Midori (Michoko Ono) and adorable little boy Keita. Perfect, of course, until we discover that due to a grave error, his son is actually not related to him at all.  On the other side of town, his real boy is being raised by Yudai (Frank Lily), a warm-hearted shopkeeper who has completely different priorities about parenting from Ryota; prioritising shared experiences with his family and three kids.
Naturally, when the hospital admits the error, a switch at birth, the parents' lives are blown apart in ways that seem entirely plausible. As the predictable issues gradually surface, it becomes increasingly apparent that there can be no satisfactory outcome for anyone concerned in this gentle, almost wistful story with its soft and sympathetic visuals, atmospheric classical score and moments of idiosyncratic humour that lift the unleavened tone of sadness as the tragic fallout send ripples through their lives.
There are some lovely naturalistic performances here from the children and despite a rather schematic storyline this is a sweetly moving and deeply heartfelt drama that will resonate with fathers everywhere. MT
NOW OUT ON DVD