Dir: Alfred Hitchcock | Cast: Tallulah Bankhead, John Hodiak, Walter Slezak, William Bendix, Mary Anderson, Henry Hull | US Drama  97′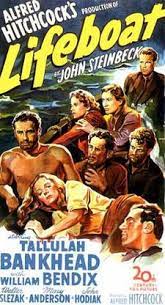 That the celebrity of Hitchcock's films bears no relation to their actual achievement is attested to by the obscurity in which this little beauty continues to languish.
Having already set The Lady Vanishes largely on a train, although Hitchcock never got to make a film entirely set in a phone booth (as he once longingly speculated), he comes close with this bold and stylish exercise that anticipates his own Rope and 12 Angry Men by making a film consisting entirely of people talking within a confined space. (And also contains a ferocious murder unaccompanied by music like that in Torn Curtain.)
Although obviously shot entirely in the studio tank, it's still a thoroughly cinematic experience thanks to a script as raw as the strictures of the Hays Office would then permit, gothic photography by Glenn MacWilliams capable of virtuoso effects like sweat breaking on a man's brow and consistently superb performances (one of them from Hume Cronyn, who latter collaborated on the screenplay of Rope), including a typically ambivalent Hitchcock ambivalent villain, as ruthless and resourceful as Eric Portman had been in 49th Parallel.
(Also as in Rope, Hitchcock himself got round the problem of making his appearance by featuring in an advertisement for Reduco – the "Obesity Slayer". @Richard Chatten
NOW ON TALKING PICTURES TV | PRIME VIDEO