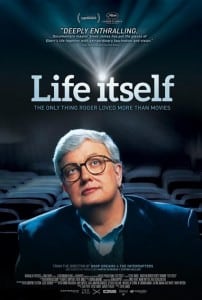 Dir.: Steve James; Documentary; USA 2014, 118 min.
When documentary filmmaker Steve James (Hoop Dreams) started to shoot the portrait of Chicago film critic Roger Ebert in December 2012, he was not to know that he was about to document the last five months in the life of Ebert. True, the critic, who was diagnosed in 2002 with thyroid cancer, and lost his speech as well as part of his face after many operations during the next ten years, was again hospitalised for a broken hip, but his will to live and his work output were undiminished.
LIFE ITSELF, named after Ebert's autobiography, quoted often in the documentary, is, in a way, the story of two marriages: when he was fifty, Ebert met Charlie "Chaz" Hammelsmith, an Afro-American attorney, whom he married after years of meeting "the worst women in the world", as a friend testified. The marriage softened Ebert personally and also professionally (even though he would have disputed the latter), for the first time as an adult he experienced family life with his wife and her children and grandchildren. For many decades, before joining AA, where (according to one source – he met his wife), Ebert was heavily dependent on alcohol, his friends from the "wild" days" painting a not very complimentary picture of the younger Ebert. After visiting the University of Illinois, he started writing at the "Chicago Sun-Times" (the 'scruffier' of the two Chicago dailies) being their film critic from 1967 until his death; his last review being published two days after his passing in April 2013.
His second "marriage" was to his TV partner Gene Siskel (1946-1999). Since 1978 they appeared together on the PBS TV show "At the Movies with Gene Siskel and Roger Ebert", later changing to Disney's "Buena Vista Channel". Their trademark was the "Thumbs up – Thumbs down" judgement on the films they reviewed. The two had a love-hate relationship, Ebert feeling inferior to the Yale man Siskel, a lean and patrician figure, presenting a much more sophisticated image, compared with Ebert's rather ungainly overweight appearance. Ebert retaliated, reminding Siskel more than once publicly, that he had won a "Pulitzer Prize" in 1975. As Marlene Iglitzen, Siskel's widow, mentioned "Roger was very full of himself" – but she too admitted that they fed of each other, whilst another witness confirms "that they fought like two little boys on the playground". Interesting to know, that Siskel, who was diagnosed with a brain tumour, did only tell his wife about his terminal condition "giving his children another happy year, instead of one counting the clock down" as Iglitzen remembers fondly. Roger Ebert on the other hand, has lived his out his illness and terrible disfigurement in the public glare – being only too glad to share.
LIFE ITSELF mentions Ebert involvement with Russ Meyer, the critic wrote the script to "Beyond the Valley of the Dolls", about the same time when Siskel was part of the Hugh Hefner circle, we can see him on the famous "Big Bunny Jet". The excerpts from their TV shows are hilarious, and directors like Scorsese and Herzog pay tribute to Ebert. Spike Lee and Michael Moore were two of many directors, whose career took off after Ebert's "Thumb's up".
Whilst not really being a "hagiography", LIFE ITSELF is sometimes too kind and polite to its main subject. James does not dig deep enough into Roger Ebert's working-class family background  where an alcoholic, vengeance-seeking mother must have done considerable damage to the future critic, affecting his chances of entering Harvard. All this might explain, whilst Ebert, with some exceptions, was a champion of popular, mainstream cinema. Quite the opposite of a Pauline Kael, who did not needed the "on-stage" personality of Ebert. Still, as a document of its time, LIFE ITSELF is worth watching.
NOW ON DVD courtesy of Dogwoof