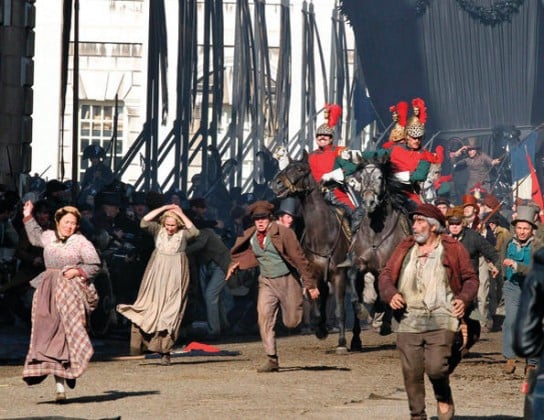 Dir. Tom Hooper
UK 2012, Dur. 158 mins.
Cast: Hugh Jackman, Russell Crowe, Anne Hathaway, Amanda Seyfried, Eddie Redmayne, Samantha Barks, Helena Bonham Carter, Sacha Baron Cohen
This is a big movie; in terms of the impressive cast, number of extras and the sheer scale of the settings and theme. Les Misérables tells Victor Hugo's story, which was made into a stage musical and is still on in London (Les Misérables originally opened in London at the Barbican Theatre on 8 October, 1985, transferred to the Palace Theatre on 4 December 1985, and after 19 years moved to its current home at the Queen's Theatre) and, indeed, all over the world.
The film is set in 19th-century France and shows the prisoner Jean Valjean (Hugh Jackman) being released on parole having served 19 years as a convict for stealing a loaf of bread to feed his sister – in fact he received five years for the crime and the rest for trying to escape. Valjean soon realises that he can't get a job because his papers identify him as a criminal and steals silver from a kindly Bishop who forgives him and gives him all his silver. Valjean determines to leave the area and be good from then on. When he breaks his parole he is hunted for decades by the ruthless policeman, Javert (Russell Crowe).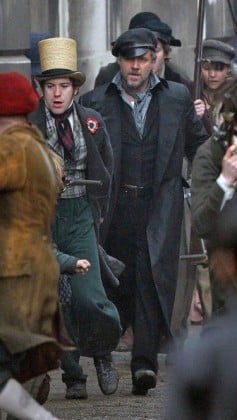 We next see wealthy Mayor Valjean, who befriends a poor factory worker, Fantine (Anne Hathaway). She is sacked from her job and sells her hair, then a couple of her teeth and finally her body to survive and care for her young child. Valjean discovers her dying and takes over the care of her young daughter Cosette (Isabelle Allen). Cosette (Amanda Seyfried) falls in love with Marius (Eddie Redmayne) as a young adult and they plan a life together. At first Valjean is wary of Marius' intentions towards his adopted child, but comes around to help the student rebel later on.
The young lovers are assisted by Eponine (newcomer Samantha Barks) who loves Marius but realises that he only has eyes for Cosette. There are not many laughs in this movie, and, in fact, the only comic characters are the innkeeper Monsieur Theanardier (Sacha Baron Cohen) and his wife (Helena Bonham Carter), who manage to get all the fun they can out of their fairly small parts. Baron Cohen's mispronunciation of Cosette's name and constant correction by Bonham Carter is most amusing. They sell the little girl to Valjean who takes her with him when he once again escapes from Javert. The film is virtually sung-through and the well-known, lovely songs from the stage musical are all here – I Dreamed a Dream, One More day, Bring Him Home and so on.
The joy is that the stars have really good voices and, in spite of having to sing live, stil manage to perform most competently. Hathaway is a revelation as she sings 'I Dreamed a Dream' with real dramatic meaning. Eddie Redmayne has a glorious voice which I hope he uses on the London stage in the near future. The music is by Claude-Michel Schönberg, and the lyrics are by Herbert Kretzmer. Hugh Jackman not only sings (which improves as the film progresses and he gives us a very moving version of 'Bring Him Home') but has managed to adjust his body so that he is very thin in the early scenes in prison and fills out as the older man. The production qualities are superb with the life of the period including struggles at the barricades captured in sound. There is excellent photography under the direction of the DP Danny Cohen, and Lisa Westcott's hair and make-up design is spot on. I expect the film to win some technical Oscars this year. Some might find the film depressing, but the great music and lovely performances give it life and joy. Carlie Newman.