Dir: Filipa Reis, Joao Miller Guerra | Cast: Carla Maciel (Ana), Fátima Soares (Emília), Vitória Nogueira da Silva (Mónica), Sara Machado (Sofia), Paulo Calatré (Victor), Manuel Mozos (Guilherme) | Drama, Portugal
An award for most enchanting opening scenes in this year's Quinzaine selection much surely go to DoP Vasco Viana. Legua unfolds in deepest Portugal where a country estate – seemingly abandoned by its owners – is now home to three generations of God-fearing women who live an almost feudal existence in this quiet backwater miles from Lisbon and Porto.
Emilia is the 'old-school' elderly retainer who still takes her job seriously, despite her declining health, taking care of the modest property belonging to her boss Senhora Manuela who lives in Lisbon (and who we never meet). The fastidious old lady is also a taskmaster for middle-aged Ana, whose labourer husband has gone to work in France, but who also abides by Emilia's exacting standards. She respects the old lady and never forgets the dept of gratitude she owes her for helping raise her own daughter Monica, who is now studying engineering. The young girl is very much of the 'me-generation', mocking the old-fashioned ways and traditions, preferring to listen to trance music with her Sofia, and focus on her future.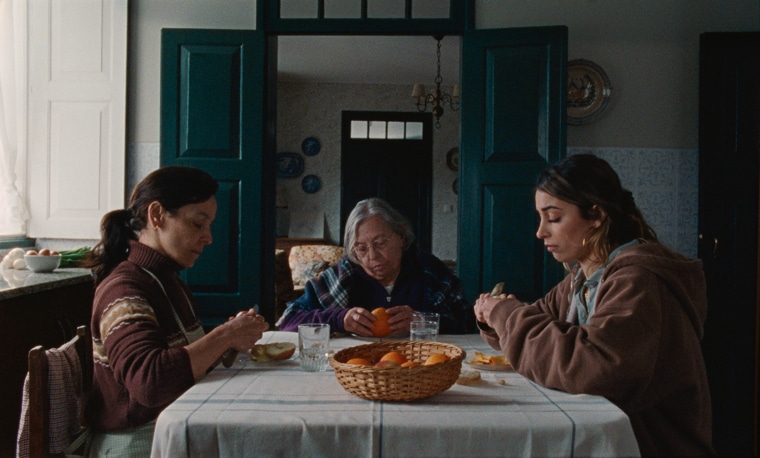 With its languorous pacing and graceful attention to detail Légua both celebrates and mourns the passing of an old order, now almost left behind to its antecessors. But is the future as promising as Monica believes?. Emilia and Ana are the guardians of this heritage and still relish their daily duties and the sense of order which is fast disappearing, and which lends comfort and stability to both 'servant' and 'master'.
Emilia's values are rooted in the last century and she believes traditions should be upheld and respected to the finest detail. Ana shares her views and carries forward the diurnal duties involved in running a home. There's a gentle sensuous rhythm to this husbandry, and Reis and Guerra capture this pride in a job well done with sumptuous gracefulness, in a film that is almost silent apart from the soft sounds of birds and, at one point, a Christian Passion hymn harmonised by Bach.
Ana is an also a decent cook and a capable gardener. She believes her duty lies with her boss and with her Emilia (whose health is now rapidly going downhill) rather than with her husband, who she loves passionately, but who has been forced to seek work in France. Their daughter Monica is very much a city girl, who has no truck with the past. Monica fizzes with teenage energy as she talks about planning a rave in the nearby countryside: "although no one would come!". It's  lively performance from Vitória Nogueira da Silva, but Monica has as hard-edged selfishness to her personality. Typical of youth, she has no time for the past, only the future.
The strength and appeal of the narrative is this convincing portrayal of all three generations: their respective notions are cleverly melded and given equal respect within a film that is never judgemental of youth, or age – for that matter – but gently observes the feelings and authentic rituals of each of the women, while also reflecting and luxuriating on the surrounding landscape, both flora and fauna, which is also gradually disappearing with the passage of time. MT
CANNES FILM FESTIVAL | DIRECTORS' FORTNIGHT 2023