Festival highlights include ROMAIN DURIS in Régis Roinsard's glamorous retro rom-com POPULAIRE and Claude Miller's much anticipated THERESE DESQUEYROUX starring Audrey Tatou, based on François Mauriac's eponymous book.
Popular French actor comedian Gad Elmaleh stars in the UK premiere of CAPITAL, set in the world of high finance, along with Gabriel Byrne. Director Costa-Gavras will be there to answer your questions after the showing. Bob Geldof is the somewhat unexpected guest actor in the adaptation of Justine Levy's novel BAD GIRL, directed by Patrick Mille.
This is also an opportunity to catch some of the films that took part in the UK Jewish Film Festival last November, but not necessarily with Jewish themes.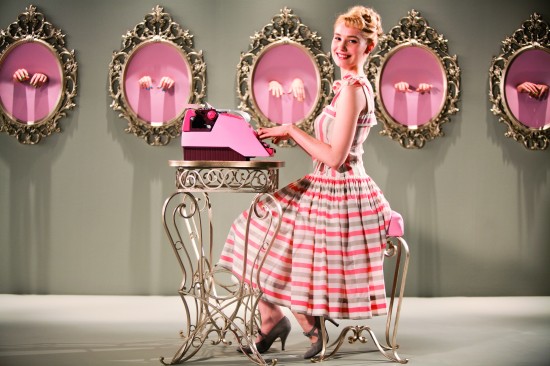 POPULAIRE – UK Preview – Wednesday 8th May – Cineworld Fulham Road – 8.30 pm
Dir. Régis Roinsard | France 2012 | French with English subtitles | 111 mins | Cast: Romain Duris, Deborah Francois, Berenice Bejo
Régis Roinsard's debut is a charming retro rom-com set in the 1950s, that shifts the Eliza Doolittle / Henry Higgins dynamic into the dazzling world of speed typing contests. After having left her small village, in which she was promised to a dead-end future, Rose decides to settle into the city of Lisieux where she meets her destiny.  We spoke to Roman Duris during his recent visit to London.
FREE MEN (LES HOMMES LIBRES) – Thursday 9th May – Tricycle – 7 pm
Dir. Ismael Ferroukhi | France 2011 | French with English subtitles | 99 mins | Cast; Tahar Rahim, Michael Lonsdale and Mahmud Shalaby
Tahar Rahim recently starred in Joachim Lafosse's OUR CHILDREN and Francois Audiard's  A PROPHET with veteran French actor Niels Arestrup. Here he plays Younes, a young Algerian who agrees to spy on the Paris Mosque to avoid a jail sentence. Younes' deep friendship with a Jewish Algerian singer leads to political conflict.