János Szász's magnificently-crafted adaptation of Agota Kristof"s French-language: 'The Notebook' (hence the title) is a lesson in history and a treasure of Hungarian contemporary cinema which has lurked much in the shadows of late. Christian Berger's sumptuous visual treatment almost blunts the harrowing nature of this Second World War tale of twin boys who are taken by their mother Gyöngyver Bognar, (Opium) to live in near-starvation with their tyrannical peasant grandmother (who  villagers call "the witch") deep in the countryside.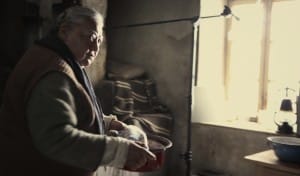 But when László and András Gyémánt's arrive at the primitive home of their grandmother (a stony-faced Piroska Molnár), they also have to live in the shadow of a Nazi officer (Ulrich Thomsen, Brothers) who has taken up residence in her farmhouse. The twins survive by immersing themselves in study and develop a punishing regime of mutual physical abuse to toughen themselves up in the harsh environment.
The tone here is bleak and emotionally distant; Szász'offering up an objective view of his survivors and making no attempt to endear us the boys who remain stern and disciplined throughout despite their young years – in contrast to the recent appealing depiction of kids in wartime outings such as Wolfskinder (2013) and Lore (2012).
Recording their experiences in a notebook (seen and heard in voiceover), the boys provide illustrative testament to this time of suffering that has a profound effect on their psyches.  In learning to stand up to their grandmother in this powerful game of wits and willpower, Szász illustrates a psychological dynamic that makes the oppressed capable of the same brutality as the Nazi oppressors and also provides intriguing psychological texture to this wartime narrative.
Despite its harsh subject-matter, Le Grand Cahier is a beautiful film to experience accompanied by its atmospheric score. János Szász has provided a rich and important account of the impact of the war on the Hungarian countryside. MT
LE GRAND CAHIER IS SCREENING AT THE LONDON FILM FESTIVAL ON TUESDAY 15 OCTOBER 2013 AT THE CINE LUMIERE