LE DERNIER COUP DE MARTEAU (The Third Hammer Blow)
Dir.: Alix Delaporte
Cast: Clotilde Hesme, Romain Paul, Gregory Gadebois
France 2014, 82 min.
Set in Montpellier, Delaporte's simple narrative (Angel and Tony) centres on a football-obsessed teenager, Victor, and his mother Nadia, who is suffering from cancer. The family lives in a caravan, next to Spanish emigrants, in the open seascape of the Camargue in southern France.
Victor has the usual teenage worries, but he is well-behaved and trying to teach the little Spanish neighbour French, whilst hoping to get into an elite football academy. Out of the blue, Victor's father, the famous conductor Samuel Rovinski, turns up. He is  rehearsing Mahler's 6th in the opera house at Montpelier. Father and son get on surprisingly well, and whilst Nadia's condition is getting worse, Victor manages to get into the academy, somehow helped by the fact he has a famous father, and discovers a liking for classical music.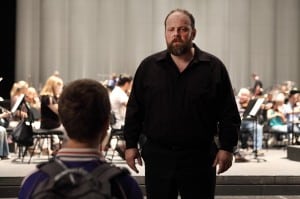 Delaporte often asks us to suspend any sense of reality, but nevertheless, she delivers a stunningly original narrative: with scenes of football played to Mahler's music. Furthermore, she makes us really believe in this co-existence. Victor takes to classical music like a fish to water, he is his father' son and the two share a palpable chemistry; yet Victor is proud to be independent with his mother. Despite living a simple existence, Delaporte shows mother and son enjoying themselves: jumping from a height into a cold lake, and trying to get as much fun out of life with their Spanish neighbours as possible. And despite their difficult circumstances, Victor and Nadia are never cast in the victim's role, neither does Delaporte glorifies Rovinski's world.
Hesme and Paul are perfect, Rovinski good at hiding his sensitive side. Camera work is unobtrusive, colours and landscapes vibrant and emotive.  LE DERNIER COUP DE MARTEAU is a very original and moving film.
VENICE INTERNATIONAL FILM FESTIVAL runs until 6 September 2014. Follow our coverage under the FESTIVAL banner