Dir.: Jean-Pierre Melville; Cast: Alain Delon, Ives Montand, Gian-Maria Volunte, Andre Bourvil, Paul Crauchet, Francois Perier, Anna Douking; France 1970, 140 min.
By the early 1970s the varied career of Jean-Pierre Melville (1917-1973) which included wartime dramas, psychosexual character studies and even a collaboration with Jean Cocteau – the two shared the same "do it yourself attitude' – was drawing to a close. This penultimate feature echoes the fatalism of thrillers such as Le Deuxieme Souffle (1966), Le Samourai (1967) and his last film Le Flic (1972). Dictated by the various criminal criminals and detective codes as the only moral guide, protagonists and their players are often interchangeable, women just peripheral to sex up the scenario (the director was a notorious womaniser) and often admitted that his films were camouflaged Westerns – this clearly informed the choice of Herman Melville as his nom de guerre as a novelist.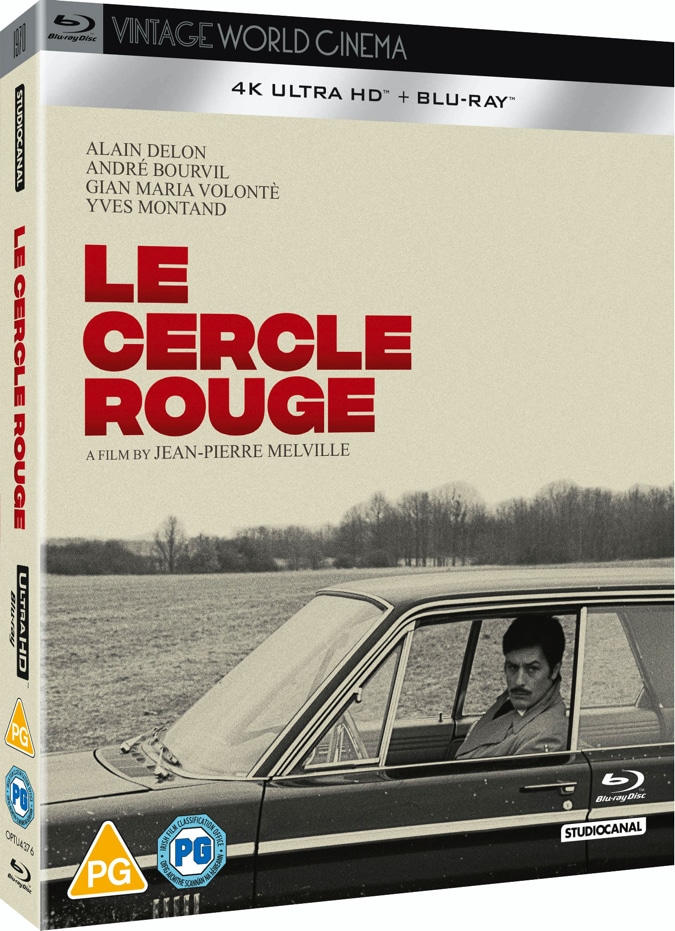 Distinguished by a dialogue free 27 minute heist sequence, this stylised feature is very Seventies in feel, a jazzy score often giving way to stretches of silence that focus the attention on the elegant framing and distinct cinematic style of Henri Decaë, one has to admire Melville's rigour and insistence on style over matter in this spare and soigné caper. The plot is rather convoluted and based on a Japanese proverb.
Commisaire Mattei (Bourvil who would die before the premiere) is transferring  the notorious criminal Vogel (Volunte) on the night train from Marseille to Paris, handcuffed to a couchette. Meanwhile Corey (Delon) is spending his last night in prison, where a guard tempts him with the 'perfect' heist that sounds right up his street. In a parallel timeframe Vogel has jumped from a train window escaping into open countryside, and is later rescued by Corey, who has robbed his boss, and seduced his girl friend (Douking). Corey is then ambushed by hitmen send by his ex-boss, and Vogel rescues him, shooting the two assassins. The two then set about planning the robbery of an expensive jewellery store at Place Vendome, inviting alcoholic ex-policeman Jansen (Montand), a famed sharp shooter, to join them in the plan. As the day of the heist dawns, all four players are determined to cheat fate.The robbery goes well, but the fence (Crauchet) gets cold feet, and the cat-loving commisaire dupes the trio with an invitation to meet him in the titular 'Cercle Rouge', where their fate is sealed.
The robbery itself is shot without any dialogue, like Rififi (1955), which Melville was slated to direct, before the Hakim Brothers, opted for Jules Dassin. Otherwise, the various strands are brought together in a sober and ceremonious fashion, with Delon glancing enigmatically at mirrors, whenever he leaves a room. Melville, who was once called the 'godfather of the Nouvelle Vague', later fell out with Godard and the other directors over artistic differences. Melville's studio had burned down, just before he started shooting Le Cercle Rouge, and he lost scripts among other valuable items.
Le Cercle Rouge has a distinct style seen in the portentious nature of the pacing and the daring existential quality of the narrative. Melville was seen as a godfather of sorts for the French New Wave (Godard giving him a cameo in Breathless).  His most personal movie was L'Armée des Ombres, which, though misunderstood upon its initial French release in 1969, is now widely considered a masterpiece. Here the enjoyable trio of Delon, Montand and Volonte make this a memorable addition to his short-lived but fiercely independent career. AS
RESTORED FOR THE FIRST TIME ON 4K HD, BLURAY, DVD AND DIGITAL – 23 NOVEMBER 2020.