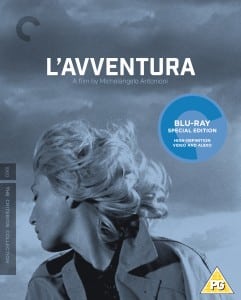 Dir.: Michelangelo Antonioni; Cast:Lea Massari, Monica Vitti, Gabriele Ferzetti, Gloria de Poliolo; Italy/France 1959, 143 min.
L'Avventura is the first part of Antonioni's trilogy about alienation. La Notte (1960) and L'Eclisse (1962), would follow, all staring Monica Vitti. This is a gently-paced journey across Italy where the protagonists slowly lose their identities, not unlike Rosselini's Viaggio in Italia.
Anna (Massari), meets her best friend Claudia (Vitti), at her father's villa. Together with Anna's boyfriend Sandro (Ferzetti) and two other couples, they embark on a cruise trip to the Aeolian Islands, north of Sicily. On the uninhabited island of Lisca Bianca, Anna simply disappears. Claudia and Sandro start searching for her in Sicily, but become close to each other, losing interest in their objective. They make love outside Neto, after questioning a chemist, who might have seen Claudia. In Messina, Sandro falls for another woman, the 19 year old writer and actress Gloria Perkins (de Poliolo). By the time they reach Taormina, Claudia then surprises Sandro in the throes of his love-making. She forgives him: not with words, which have become meaningless, but a simple gesture.
There are no adventurers in L'Avventura, just a group of people who are afraid to commit to each other, and instead hope that something new might happen during their travels, something which delivers them from their inner emptiness. Even though this is not a silent film, it feels very much like it should be: sadness and lack of communication make words more and more pointless; the protagonists don't talk to each other or even communicate. Kracauer, many years before L'Avventura put everything in one simple sentence: "The unity of the aesthetic form, the way the story is told and how the narrative is connected, brings this world of silence into a form much more fascinating than words."
DoP Aldo Scavarda, who also shot Bertolucci's Before the Revolution, creates grainy black and white images where the characters seem to blend with nature – leaving humans like strangers on this craggy, moon-like terrain. The light changes, but the new couple alway looks like transient visitsors: their search for Anna becomes a journey into a labyrinth; the deeper Claudia and Sandro get into the maze, the more they lose any attributes which they might have had at the beginning. Monica Vitti looks around in amazement: the moment something happens, it is already lost. L'Avventura is about the poetry of the sea landscape, and the desert of its soulless characters. AS
AVAILABLE TO BUY FROM CRITERION UK ON 30 MAY 2016