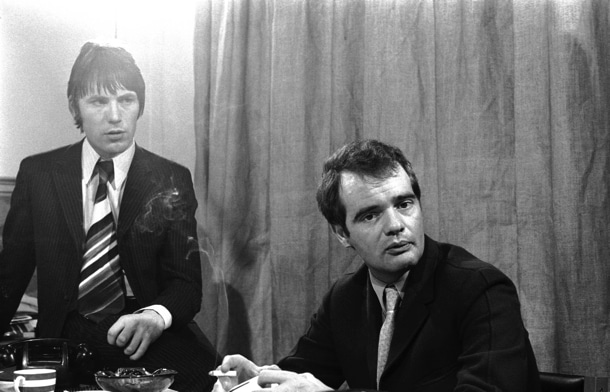 Director: James D Cooper
With: Kit Lambert, Pete Townsend, Roger Daltrey, Chris Stamp, Richard Barnes, Robert Fearnley Whittingstall
118min   Music Documentary    US
Kit Lambert and Christopher Stamp shaped the early years of one of England's greatest rock bands that was The Who. James D. Cooper's enjoyable documentary traces the partnership of this unlikely couple, who are no longer around but whose memory lives on, in this affectionate portrait featuring band members: Pete Townsend and Roger Daltrey, and Stamp's elder brother, the actor Terence. Chris also makes an expansive and charismatic appearance and it's only later that you realise that he died in 2012. Clearly this well-researched film. with its superb editing by Christopher Tellefsen, has been a long time in the making.
Watching Lambert & Stamp the phrase "the past is a different country " frequently springs to mind. Not only did they do things differently back in the Swinging Sixties, but life seemed simpler then and a great deal more fun. This heady conconction of black and white photos, archive footage and musical excerpts charts the days of the Mods and Rockers and Swinging London that formed the genesis in 1964 of The High Numbers, later known as The Who.
Lambert and Stamp were two highly unorthodox characters who together forged a relationship that was to make these media entrepreneurs into successful record producers in the world of Rock. Yet Kit Lambert couldn't have come from a more illustrious and upmarket background. The son of classical composer Constant Lambert, he was born in Knightsbridge and educated at Lancing College and Oxford and spoke French and German – we see him conversing fluently in TV interviews. In contrast, Stamp grew up in the East End, one of five children whose father was a tugboat captain on the Thames. Meeting in Shepperton Studios, where they both fostered dreams of graduating from directing assistants to fully-fledged film directors, they were drawn together by a remarkable synergy, sharing an interest for French New Wave. Their original aim was make a film about a music band and were searching around with this idea that would provide them with an entrée into the film world as directors. Townshend reflects that "irreverence" is probably the wrong word to describe their approach to managing the band, since that would imply that they weren't treating the endeavour seriously. But may be this laissez-faire style was just right in handling these young and rebellious men and moulding them into rocks stars. And although Lambert was frightfully classy his manner is described by all the band members as warm and approachable. Being gay, he was also unthreatening to the other men. Although Daltrey claims, jokingly, to have been slightly miffed that Lambert never made an approach, making him feeling "unattractive". In another hilarious moment, Townsend's school chum, Richard Barnes, claims that, Kit, a chain-smoker: "used one match in his whole life to light his first cigarette" which he was apparently offered at the age of 9 by one of his father's friends. Kit had worked as a crew member on The Guns of Navarone, Tommy and To Russia With Love.  Terence Stamp describes his brother as "a rough, tough fighting sort of spiv," whose interest in girls was helped, undoubtedly, by his gift of the gab and unruly mop of dark hair. Even in his seventies, his hair turned white, he exudes a voluble appeal. 
Cooper 's documentary is replete with nearly two hours of amusing anecdotes and moving moments that coalesce in this candid and fascinating exposé of the band, the personalities and the sixties .Although this era has already been well-documented (and dramatised in the 1979 film  Quadrophenia), Cooper still finds something new and worthwhile to bring to the party of the sixties popular music revolution that also embraced The Beatles and The Rolling Stones. MT
LAMBERT AND STAMP IS ON GENERAL RELEASE FROM 15 MAY 2015