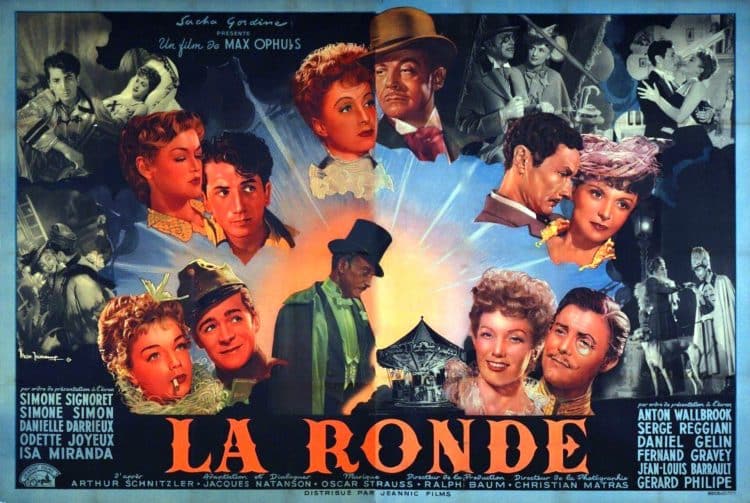 Dir: Max Ophüls | Arthur Schnitzler | Cast: Anton Walbrook, Simone Signoret, Serge Reggiani, Simone Simon, Daniel Gelin, Danielle Darieux, Fernand Gravey | France, Drama 93′
Max Ophüls (1902-1957) creates an avant-garde merry-go-round full of subtle sexual vignettes based on Arthur Schnitzler's play from 1920. Using the same technique and narrative structure as in Lola Montez (1955), this delicately dreamlike pot pourri of romantic rendezvous takes place in Vienna in the last decade of the 19th century and is set to a melodious score by Oscar Strauss.
Led on by the Master of Ceremonies (Anton Walbrook), talking directly into the camera, he changes the proceedings symbolically, altering the outcome of the encounters – not unlike the ringmaster of the circus in Lola Montez.
Leocadie (Signoret) and the soldier Franz (Reggiani) enjoy a romantic interlude under a bridge. This sets off a carousel of rather casual affairs in which the lovers treat the person they come across like a runner in a relay race. First of all, Simone Simon (Marie) is seduced by her employer (Daniel Gelin), and so the affairs continue until the Count (Philipe) closes the circle, falling for Marie.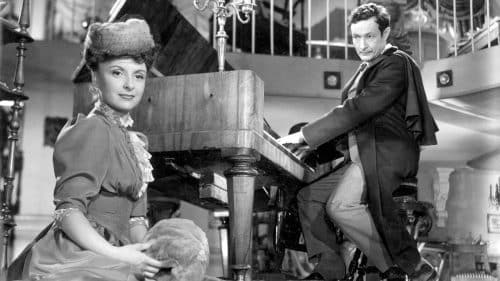 There are echoes of von Sternbergs's romantic comedies, particularly Shanghai Gesture, that played out like a roulette wheel. Both directors make use of irony and wit as well as well as farcical moments. The female characters are often victims of male society, they are courtesans or bourgeois women who have failed to fit in with the hypocritical standards of their class. The male characters strut around like peacocks in their dandy-like attire, and soldiers in highly decorative uniforms. Songs and music are key elements in the work of both directors, driving the narrative forward, as here with Strauss, the "Waltz King".
The highly fluid camerawork of Christian Matras (Lola Montez, Grand Illusion) is crucial in maintaining the flirty lightness of touch in compositions which roll along in an elliptical scroll, the camera reflecting the changing thoughts of the characters.
La Ronde is a nostalgic look back to a world which had been destroyed by the social changes of the First World War. Ophüls' films yearn to re-create this lost world of gentility, reflecting moral codes and social mores that no longer apply. AS
SCREENING AS PART OF SAVE CURZON MAYFAIR