Dir: Francois Truffaut | Cast: Jean Desailly, Françoise Dorléac, Nelly Benedetti, Daniel Ceccaldi, Laurence Badie, Philippe Dumat | France,  Drama  123′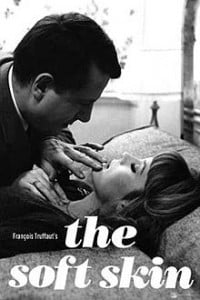 Truffaut's La Peau Douce is known, in translation, as Soft Skin, as it best conveys the film's vulnerability of character and minimal eroticism. It's a superb, understated study of adultery that descends into a crime passionel.
Pierre Lachenay (Jean Desailly) is a middle-aged writer and publisher well-known for his TV appearances discussing the work of Balzac. On a flight to Lisbon he's attracted to Nicole (Françoise Dorléac) a beautiful young air hostess. They meet later, at their hotel, and embark on an affair. His wife Franca (Nelly Benedetti) suspects her husband has a lover. Pierre denies the fact and leaves Franca and his young daughter, for Nicole. A divorce looks likely but…
Marital infidelity is so hackneyed a subject that even in 1963 it appeared unlikely to surprise audiences. The film did badly at the box office; even Truffaut was disappointed with the final result. Maybe because he was preoccupied with seeking funding for his Fahrenheit 451 project and interviewing Hitchcock, for what was to become a seminal book for our understanding of the art and craft of film direction: Indeed the shadow of Hitchcock is present throughout a feature full of subtle psychological details: shoes placed outside hotel rooms as a clue to finding the person you desire; or apprehension at the petrol station where Lachenay thinks Nicole has deserted him. Truffaut learnt so well from 'The Master.'
Soft Skin's characters are not in the least bit conventionally romantic. Pierre is weak-willed, indecisive and clumsy – arranging meetings with Nicole. She is seriously attached to him but her 'love' for Pierre results in her suffering humiliation and neglect because of their clandestine arrangements. The long middle sequence, set in Rheims, where Pierre gives a talk to accompany an Yves Allegret documentary on André Gide, has him desperately trying to ignore and hide from the presence of Nicole – she cant even get to buy a ticket to Pierre's lecture less his relationship be discovered and reputation damaged. When the infidelity is revealed, Truffaut's script devotes more screen time to the wife and the strong effect the  infidelity has on her. Franca turns out to be the most determined and confident player in the drama: much more certain of her needs than the constantly interrupted lovers.
Casting is crucial to making an intense adultery movie work. The performances of Jean Desaily, Françoise Dorléac, (the late actress was the sister of Catherine Deneuve) and Nelly Benedetti are absolutely faultless. B& W Photography is by the great Raoul Coutard. Georges Delerue supplies a beautiful film score, sparingly used and well-timed. And one of the numerous, if incidental, pleasures of Truffaut's brilliant direction is the knowledge that in order to cut down on costs, he shot a lot of the film in his own spacious Parisian apartment. Soft Skin has been underrated and unjustly neglected. But now it's available on Artificial Eye Blu-Ray to re-evaluate or discover for the first time. Alan Price
BFI Blu-ray release on 6 June 2022