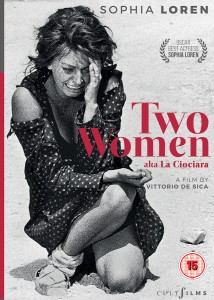 Dir.: Vittorio de Sica
Cast: Sophia Loren, Jean-Paul Belmondo, Eleonora Brown
Italy/France 1960, 100 min.
After the box-office failure of Umberto D. – perhaps his greatest achievement – Vittorio De Sica turned for the rest of his career to more light hearted fare, but LA CIOCIARA, based on the 1957 novel of the same title by Albert Morovia, was one of the exceptions: it was surprisingly bleak and utterly violent.
Set during the last months of WWII in Italy, Cesira (Loren) runs a little grocery shop in Rome, With the Allies approaching, she decides to take her teenage daughter Rosetta (Brown) to her hometown of Ciociara, to the south of Rome. There they meet Michele de Libero, a communist sympathiser, who seems to be flirting with both women, but making a greater impression on the young Rosetta. After the Allied troops liberate the region, Cesira decides to return home with her daughter, following the victorious troops. But they are both gang raped in a disused church by Marroccan soldiers, fighting for France. Back in Rome, Rosetta is still in a catatonic state, only the news of Michele's death sets her – partly – free: behind her uncontrollable tears, we see the young Rosetta re-appearing. (De Sica, who was co-writer of the adaption, chose a rather hopeful ending, in the novel Rosetta embarks on a life as prostitute).
Winning Best Actress at Cannes, Sophia Loren is brilliant as the woman losing her faith in humanity: she starts off as pragmatic, always in control, but the evil she finds there, robs her of any hope. The black-and-white images of Hungarian born Gabor Pogany (Antonio Gramsci: The Days of Prison) are particularly sensitive, relaying the terror of the women without using graphic violence, but concentrating on the aftermath. De Sica directs without succumbing to melodrama, returning to the pure neo-realism of his first films. AS
NOW OUT ON BLURAY ON 24 OCTOBER 2016| IN BOTH THE ITALIAN VERSION WITH IMPROVED (SWITCHABLE) ENGLISH SUBTITLES AND ENGLISH SPOKEN AUDIO TRACK | NO OTHER WORLDWIDE RELEASE HAS THESE TWO OPTIONS |