Dir: John Krokidas; Cast: Daniel Radcliffe, Dane de Haan, Ben Foster, Jennifer Jason Leigh
USA 2013, 104 min. Drama
The first feature film of scriptwriter John Krokidas (Being John Malkovich) takes Daniel Radcliffe in the role of young Allen Ginsberg to Columbia University in the autumn of 1943. There he meets future stars of the literary anti-establishment like Jack Kerouac (Jack Huston), Lucien Carr (Dane de Haan) and William Burroughs (Ben Foster). Ginsberg, the shy Jewish boy, suffering from the breakup of his parent's marriage, falls madly in love with Carr, who is still seeing his ex-lover David Kammerer (Michael C. Hall), who a year ago saved his life in Chicago when Carr tried to commit suicide.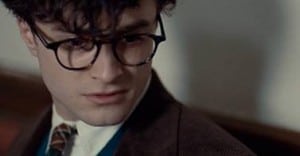 The fading College running back Kerouac (who could now imagine him playing American football!) is also part of the group, though he seems the only heterosexual in the posse of rebels. The lads get up to pranks, some more serious than others, but a certain bookish tranquility holds sway until Carr kills Kammerer sadisticly, without an apparent motive. Thanks to Ginsberg, who finds an escape route for him in  an old law book (if attacked by an homosexual, the straight man can claim self-defence), Carr gets off with 18 month in prison, but rejects Ginsberg, who is heart broken.
Krokadis film is uneven, too often episodically, and its straight linear narrative and mostly conventional aesthetics make the end product much less than it could have been. Radclliffe excels in the frank sex scenes and it is the ensemble acting, which saves the film in the end. Dane de Haan's Carr is particularly menacing, the boy-man with the face of an angel, who can't stand any rejection, and plays off all his lovers against each other. Like a little vampire, he sucks all the good out of people; his golden looks masking his exploitative nature. Surprisingly, the real Carr stayed with one publishing house until his death in 2005: twice married with two children.
In spite of its shortcomings, KILL YOUR DARLINGS delivers some fascinating background about the cradle of the Un-American dream. AS
[youtube id="RKCpOm7-erw" width="600″ height="350″]
KILL YOUR DARLINGS IS screening during BFI FLARE 20-30 March 2015