Dir: Basil Dearden | Wri: Robert Andrey | UK, 1966 | 134′ | Historical Action Drama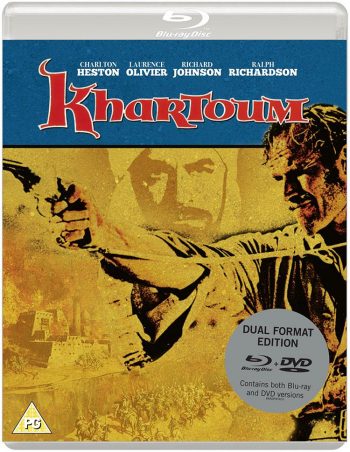 KHARTOUM is the kind of spectacular, rousing historical adventure that doesn't get made anymore, certainly not along the same lines as Basil Dearden's star-studded epic that exposes English colonialism, religious fanaticism, heroism and sacrifice in a magnificent visual masterpiece. Back in the day, it all seemed perfectly harmless to our innocent childhood eyes as we sat round the telly oblivious to the political incorrectness. And that wasn't the worst thing: it later emerged that over a hundred horses were severely injured or killed immediately during the battle scenes, due to unethical stunt methods of the time.
Sir Laurence Olivier actually plays the Arab fanatic Muhammad Ahmad, whose troops massacre thousands on British-led Egyptian forces in 1880s Sudan. He truly believes he is the Mahdi, choses by the profit Mohammed's to topple the Anglo-Egyptian rule. Meanwhile, Legendary Major General Charles George Gordon (Charlton Heston was nearly a foot taller than the General himself) is sent by Prime Minister William Gladstone (Ralph Richardson) to save the city of Khartoum from the Mahdi, but is given only one aide in the shape of Richard Johnson), and limited support from the British government that sent him there. Intrepid til the last he faces a fearless opponent determined to create a new empire. Gordon sees that further bloodshed is imminent.
With impressive battle sequences given greater weight by philosophical and moral debates about the righteousness of military action, Khartoum is a widescreen extravaganza and was the final film to be shot using Ultra Panavision 70 (and screened theatrically in Cinerama) until Quentin Tarantino's The Hateful Eight in 2015. And it's an extraordinary endeavour with its masterful performance from a heavyweight cast of actors at the top of their game. Perfect entertainment for a drizzly afternoon or a long winter's night – if you're not an animal lover!
FROM 3 DECEMBER | COURTESY OF EUKEKA MASTERS OF CINEMA
Amazon https://amzn.to/2DbNZTh
Zavvi http://po.st/QT2LEq