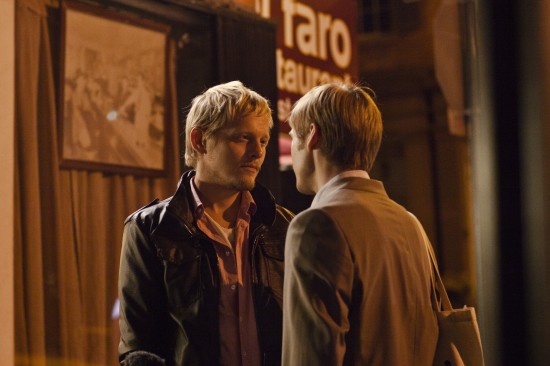 Director/Screenplay:  Ira Sachs    Prod:   Lucas Joaquin
Cast: Thure Lindhardt, Zachary Booth, Julianne Nicholson,
102min      US   Drama (Gay Interest)
Based in the early nineties Manhattan, this torrid drama has Thure Lindhardt as Erik, a wounded documentary filmmaker looking for casual sex on the rebound from a broken relationship and Zachary Booth as Paul, a lawyer he meets through chat lines.  The sex is great but Paul has a girlfriend and doesn't want to get involved.  But the affair continues and becomes complicated because these two are incompatible emotionally and there are issues of sex and drug addiction.
Based on a true life experience, Ira Sachs directs with a heartfelt emotion that's compelling, raw and full of pain.  This is a tough and effecting indie drama with a grainy look and good performances, a great deal of sexual activity that feels real and an authenticity that makes the ten-year affair seem totally natural.  Keep the Lights On also touches on wider issues for the gay community at that time such as the burgeoning AIDs crisis and the work of artists Avery Willard and Arthur Russell. MT
Keep The Lights On releases in cinemas across London from Friday, 2nd November 2012 at Curzon, ICA, Hackney Picturehouse and Ritzy, Cineworld Glasgow and Cardiff.