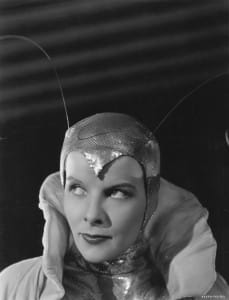 Katherine Hepburn was one of Hollywood's most charismatic female stars. Her career (1907-2003) stretched over fifty years from her debut film BILL OF DIVORCEMENT (1932), directed by her regular collaborator, George Cukor, who would be in charge of five more of her films and notably, THE PHILADELPHIA STORY (1940). Having spent four successful years in the theatre (where she would return very often), she won her first "Oscar" nomination in 1933 for the role of Eva Lovelace in MORNING GLORY (1933), only her third film. Directed by Lowell Sherman, Hepburn plays a Broadway actress on her way to stardom. Here Hepburn plays the opposite of the scheming title character of All about Eve; attributing her success mainly to hard work despite rather lucky break to help things along. Shot in the same sequence as the script, MORNING GLORY (***) shows Hepburn as a very competent young actress but her wild temperament, which would be so noticeable in further performances, seems to be held in check by the director, who obviously gave the best lines to the two male stars Douglas Fairbanks junior and Adolphe Menjou.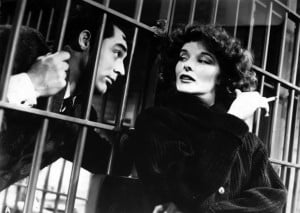 BRINGING UP BABY (*****) directed in 1938 by Howard Hawks, though a box office disaster (proving again that Hepburn was box-office poison between 1934-40), is still the ultimate film of all screwball comedies of the thirties and forties. Hepburn plays Susan Vance, a scatterbrain heiress who lures the unsuspecting zoologist David Huxley (Cary Grant) into all sort of adventures – mainly to keep her aunt's pet leopard "Baby" out of trouble. Huxley's engagement to his cold blooded assistant, and (in the last scene of the film) his life's work, the reconstruction of a Brontosaurus, all are destroyed in the name of love – even though for most of the film Huxley is very unaware of any positive affections for Ms Vance. BRINGING UP BABY is the quintessential Hepburn film, before her mature period of "Spinsters and Shakespeare".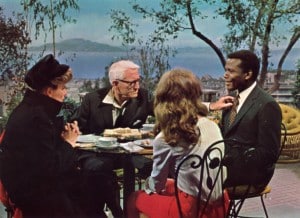 Stanley Kramer's GUESS WHO'S COMING TO DINNER (****) might not seem very daring today, but when it was released in 1967 interracial marriage was still illegal in 17 (mostly southern) states of the USA. GUESS WHO'S COMING was the ninth and last film starring Hepburn and her long time partner Stacey Tracy, the latter would die 17 days after shooting ended. Their relationship had lasted since 1941, even though they never married – and their relationship was kept silent by the film companies because of Tracy's marriage. Set in 60s San Francisco Joanna (Katharina Houghton, Hepburn's niece), invites her black fiancée John (Sidney Poitier) and his parents to meet her own parents (Hepburn and Tracy). She is surprised that her liberal and progressive folks seem not to be overjoyed by the fact that she chose a black man – even though both parents try to camouflage their feelings as well as possible. The delicate subject is treated with some humour, even though harsh words are spoken – Joanna trying to come to terms with the realisation of the massive gulf which exists between her parents general attitude and their reactions to her engagement, so often still the case nowadays.
One year later Hepburn starred as Queen Eleanor in Anthony Harvey's THE LION IN WINTER (***) together with Peter O'Toole as Henry II and based on a idea by John Goldman. This featured a sparkling debut by Anthony Hopkins as Richard the Lionheart. Whilst Henry II wants his eldest son, the future King John, as his heir Eleanor prefers their oldest surviving son, Richard The Lionheart. Henry locks all his sons in a dungeon, travelling to Rome to have his marriage annulled. He than sentences them to death, only to let them escape. Whilst going in a barge to prison, Eleanor still thinks that she has future life with Henry. Historically incorrect, THE LION IN WINTER is a showcase for the now mature Hepburn, whose performance carried the film, leaving O'Toole's Henry II in the shade.
ON GOLDEN POND (***1/2) (1981) was to be Hepburn's last major film, it won her the fourth "Oscar", opposite Henry Fonda who also won the award for his last film. Ethel (Hepburn) and Norman (Fonda) Thayer are spending a (last) summer at her cottage near a lake called The Golden Pond. Norman, who is very stubborn and cantankerous, does not get on well with his daughter Chelsea (Jane Fonda), or her fiancé Bill. But in spite of their concern, Chelsea and Bill leave his teenage son with the old couple. During fishing trips Norman softens visibly and Billy, who misses his friends, gets used to his new company. At the end of the holiday, Norman suffers a heart attack and decides to die at the lake. Jane Fonda had secured the rights to the play of the same name from Ernest Thompson (who also wrote the screen play), the relationship in the film mirroring that of the two Fondas. Directed by with great sensibility by Mark Rydell, ON GOLDEN POND was the only film to be produced in Hollywood during the screen-writers strike in 1981 – a tribute to Hepburn and Fonda. AS
THE KATHERINE HEPBURN RETROSPECTIVE RUNS FROM 1 February until 19 March 2015 at the BFI Southbank London