New films from RADU JUDE, ANA KATZ and SÉBASTIEN PILOTE headline the main competition at the 53rd edition of the Czech Republic's premier festival that unspools in the spa town of Karlovy Vary from 29 June until 7 July 2018.
The ten world and two international premieres in this year's official competition include Jude's follow-up to his sombre genocide documentary Dead Nation (2107). I Do Not Care If We Go Down In History As Barbarians is another exploration of the timely topic of national identity and culture. Argentinian filmmaker Ana Katz's will present her bittersweet family drama  Sueño Florianópolis. The Fireflies Are Gone, is the story of a rebellious yet charismatic teenager, directed by Canadian filmmaker Sébastien Pilote. The line-up also features Russian filmmaker Ivan Tverdovsky's poetic new film Jumpman and Peter Brunner's dark Austrian-American drama To the Night, starring Caleb Landry Jones, while Israeli director Joseph Madmony will be at KVIFF with a subtly moving drama Redemption, that explores a fathers fight to save his daughter and his own musical dream. co-directed by cinematographer Boaz Y. Yako
Other titles competing for the festival's Crystal Globe include: Miriam Lies (Natlia Cabral, Oriol Estrada, Dominican Republic/Spain); Brothers (Omur Atay, Turkey); and History of Love (Sonja Prosenc, Slovenia.)
The  East of the West competition strand  features the latest from Eastern Europe, the Middle East and Central Asia — and opens with Crystal Swan, a debut from Belarusian filmmaker Darya Zhuk in a selection from 12 female directors, including Iranian director Nima Eghlima's social drama Amir and Elizaveta Stishova's touching family drama Suleiman Mountain, that debuted at last year's PYIFF.
In the Documentary strand, there is Putin's Witness an exciting look behind the Kremlin's Iron Curtain exposing new archive footage, from exiled Russian director Vitaly Mansky, Bridges of Time, a poetic essay from Lithuanian directors Kristine Briede and Audrius Stonys and filmmaker Marouan Omara explores the abandoned luxury Egyptian resort Sharm El Sheikh: Dream Away. Meanwhile, Andrew Bujalski's Support the Girls,  looks at the  American middle class during a day in a traditional U.S. sports bar and plays out of competition.
OFFICIAL SELECTION – COMPETITION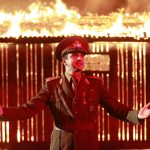 I Do Not Care If We Go Down In History As Barbarians | Radu Jude | WP | 140′
Radu Jude's follow up to his sombre study of wartime genocide (Dead Nation) is a more upbeat but potent feature that follows a young Romanian artist's meticulous plans to reconstruct an historical event from 1941, when the Romanian Army carried out ethnic cleansing on the Eastern Front.