Dir: Charles Saunders | Wri: Alexander Dore | Cast: Jill Ireland, David McCallum, Kenneth Cope, Brian Weske, Vanda Hudson, Edna Dore | UK Thriller 89′
A short-haired Jill Ireland already caught the eye as a dancer in 'Powell & Pressburger's Oh…Rosalinda!! in 1955. A few years later we discover her as a glacial hussy flaunting herself in tights in a strip club called the Adam & Eve (along with several other girls, one of them Black) in this vividly sleazy record of a Britain sixty years ago between the end of the Chatterley ban and The Beatles' first L.P.
Her leading men were later TV stars David McCallum (then looking very lean 'n hungry and married to Ireland, who later dumped him for Charles Bronson), and Kenneth Cope, introduced in what was then the traditional manner of leaving Wormwood Scrubs.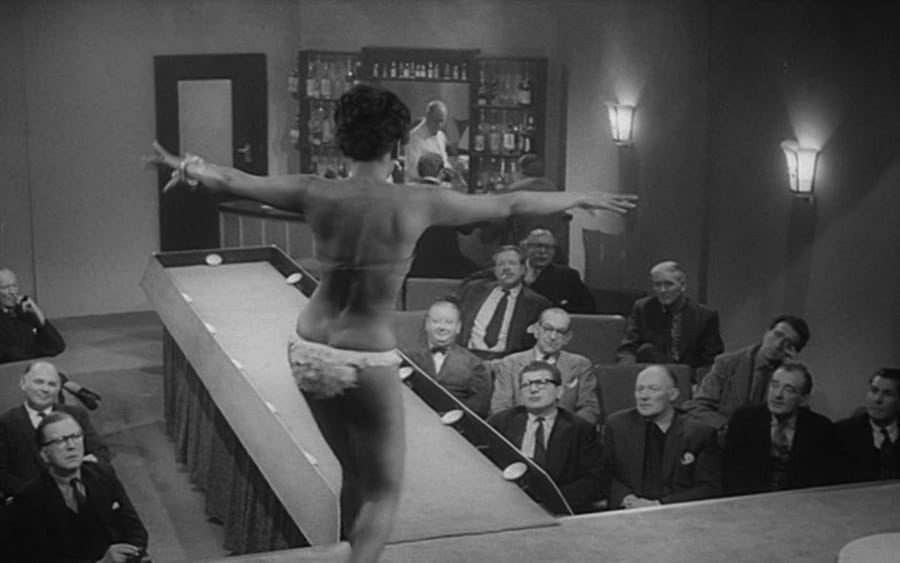 Noirishly photographed by Walter J. Harvey from a story by exploitation producer Guido Coen, and with an appropriately trashy jazz score by someone called Harold Geller, it vividly evokes a world sixty years ago when £50 was worth committing robbery with violence for, despite it then being a hanging offence. Richard Chatten.
(P.S. Ignore the date given by the IMDb, according to Gifford's 'British Film Catalogue' it was released in October 1961, and 1961 is the date in the credits.)
DOING THE ROUNDS ON TALKING PICTURES TV