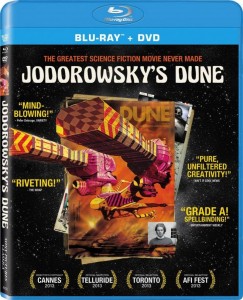 Director: Frank Pavich
With Alejandro Jodorowsky, Nicolas Winding Refyn, Michel Seydoux, Brontis Jodorowsky
88min   France     Documentary
Frank Herbert's 'Dune' is reputed to be the most awe-inspiring science-fiction novel ever; even according to Nicolas Winding Refyn.  Cult Chilean filmmaker, Alejandro Jodorowsky had plans to shoot a big-budget adaptation of the seminal work which are revealed here in Frank Pavich's long-awaited documentary Jodorowsky's Dune.
Very much the stuff of dreams for fans and geeks alike, Jodorowsky acquired the rights to the work and reveals his extravagant ideas to recruit the 'spiritual warriors' needed for his project. From casting Salvador Dali as the Emperor and approaching Pink Floyd to provide the score, he also wanted sci-fi artists HR Giger, Moebius and Chris Foss to mastermind the aesthetics. He even trained his son Brontis for a role, as he did in his latest outing La Danza de La Realidad.  Michel Seydoux is happy to back the successful director who first came to fame with 1967 Fando Y Lis, a surrealist project that was banned in Mexico. El Topo followed in 1970 and Holy Mountain in 1973: all breakout hits in the Cult firmament.
After preparing a storyboard with Jean Giraud (Moebius), Jodorowsky started writing the script in a French chateau.  Mick Jagger, Amanda Lear and Udo Kier were approached to join the party.  Then Hollywood studios were invited to see a copy of the "Dune book" and although many were impressed and the financing was deemed workable, none became attached to the project.
Combining interviews and live footage, this is a fascinating insight into the world of the maverick Jodorowsky, unsurprisingly revealing him as not only a highly creative individual but also a man of great charm, wit and exuberance. A shame, then, that his project never reached fruition and finally gets taken up by another well-known filmmaker with surprising results and reactions from the auteur himself. Jodorowsky's Dune will appeal to fans and sci-enthusiasts alike. MT
NOW OUT ON BLU-RAY AND DVD.