Director: Francois Ozon
Cast: Marina Vacth, Geraldine Paihas, Frederic Pierrot, Fantin Ravat
95min   French with English subtitles   Drama
Student prostitution has come under the spotlight recently with dazzling insight from Emmanuelle Bercot's edgy Parisian drama Student Services (2012) to Malgorzata Szumovska's intimate look at female grads on the game, Elles (2011).  Here the prolific and provocative French auteur, Francois Ozon, offers up his sultry and mischievous story of Isabelle.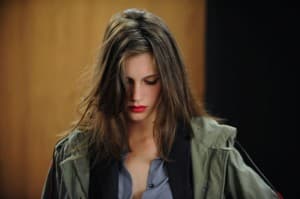 Once again the setting is Paris but JEUNE ET JOLIE (YOUNG AND BEAUTIFUL) is a coming-of-age drama with a twist.  Avoiding winsome innocence, it focuses on a very confident, hard-edged 17-year-old from an educated background, played vampishly by French model Marine Vacth.
As the title suggests, Isabelle is a good-looking young woman who's comfortable with her nascent sexuality and the power it enables her to wield, not least in flirtations with her mother's partner who shares  their Parisian home.  Unmoved by her first sexual encounter Isabelle realises how to turn this disaffection to her advantage in financing her studies. Nothing new there. But Ozon cleverly keep us guessing about the power that women hold in the sexual arena. And although it appears that Isabelle is fearless and calculating, he shrouds her emotions in mystery leaving us to wonder whether this girl is really in control of her life and her relationships as much as she would have us believe.  Sexually available and canny she may be, but she is still immature emotionally and this comes across in Vacth's subtle performance.
Ozon provocatively portrays the upmarket setting with its glossy visuals as being quite normal but then he blows apart this facade slowly teasing us with glimpses of reality as the drama unfolds. Isabelle's dynamic with her mother (Isabelle Paihas) is a fascinating one. Initially the daughter appears to have the power but eventually emerges as the weaker of the pair, accurately reflecting the inner turmoil of adolescence but also examining the fading power of female sexuality as we saw before with in Juliette Binoche's clever performance as Anne in ELLES.
Well-crafted and competent, this is a challenging film that asks questions, leaving the viewer open to doubt about the normality of a situation that on the surface feels straightforward but on reflection starts to raise complex questions about the nature of adolescence, innocence and female desire. MT