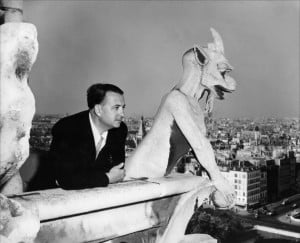 JACQUES TOURNEUR, THE MEDIUM – FILMING THE INVISIBLE (JACQUES TOURNEUR, LE MEDIUM – FILMER L'INVISBLE)
Dir.: Alain Mazars |  Documentary | France 2015, 60 min.
Jacques Tourneur (1904-1977) only directed four feature films in France between 1931 and 1934, before he went with his director father Maurice, to Hollywood, where he started making short films between 1936 and 1939. What followed was an extraordinary career of classic B-pictures, fantasy dramas and  film noirs in different genres..
As the title of this well-crafted documentary hints, Jacques Tourneur specialised in filming invisible terror through his subtle scores and dramatic lighting techniques. This must have come easily to him as his parents would lock little Jacques into a cupboard whenever he was naughty, ordering the nanny to make scratching noises on the door from outside, pretending to be a child-devouring monster.
Three of Jacques Tourneur's best known films, Cat People, I Walked with a Zombie and The Leopard Man were produced in 1942/3 by Val Lewton, who would also go on to work on The Body Snatcher (1945). Cat People is a great example of a study in silent terror: the architect Kent Smith has married the Serbian graphic designer Irena (Simone Simon), who believes that she will turn into a panther when aroused. Kent encourages Irena to see Dr. Judd, a psychoanalyst who is sure he can unlock her trauma. Kent's co-worker Alice Moore, is in love with Kent, and soon stalked by a growly big cat – which the audience never sees. But Alice finds her bathing costume torn up, and Dr. Judd discovers too late that an analyst can be utterly helpless too. The terror (as in The Leopard Man), where a leopard is the unseen hunter of men and women, is subtle and manifests itself exclusively by sound.
But Tourneur's best known work was Out of the Past (1947), the classical 'femme fatale' noir in which private eye Jeff (Robert Mitchum) succumbs to the deadly charms of Kathie (Jane Greer), the girlfriend of mobster Whit (Kirk Douglas). Even though Jeff has broken with his past, living as a petrol station attendant in a small town, where he tells his new girl friend Ann Miller (Virginia Huston) about his life story of passion and betrayal – he recants as soon as he encounters Kathie again, he is drawn to this deadly female, and the ending, very much like John Dall's Barton Tarr in Joseph. C. Lewis' Gun Crazy, leaves him only one way out. Again, there is just enough action to drive the film forward, but the decisive moments are more or less silent: one look at Jeff's face is enough to let us know that his amour fou is stronger than his rationale. Likewise, Kathie's most powerful weapon to subdue Jeff is not her gun – she kills Whit in cold blood – but her soulful big eyes, which change her expression seconds after the killing into the 'helpless beautiful girl', who Jeff has to save, against his better judgement. All the torment of these powerful emotions can be read in the eyes and facial expressions of this self-destructing couple.
Mazars's documentary, with insightful interviews and extensive clips from Jacques Tourneur's films, paints a picture of a filmmaker who weaved dreams which turned into nightmares. And even at the end of his career, as his episode 'Night Call' (1964) for the legendary "Twilight Zone" TV Series shows, he was always ready to experiment and invent. AS
REVIEWED AT VENICE FILM FESTIVAL 2015