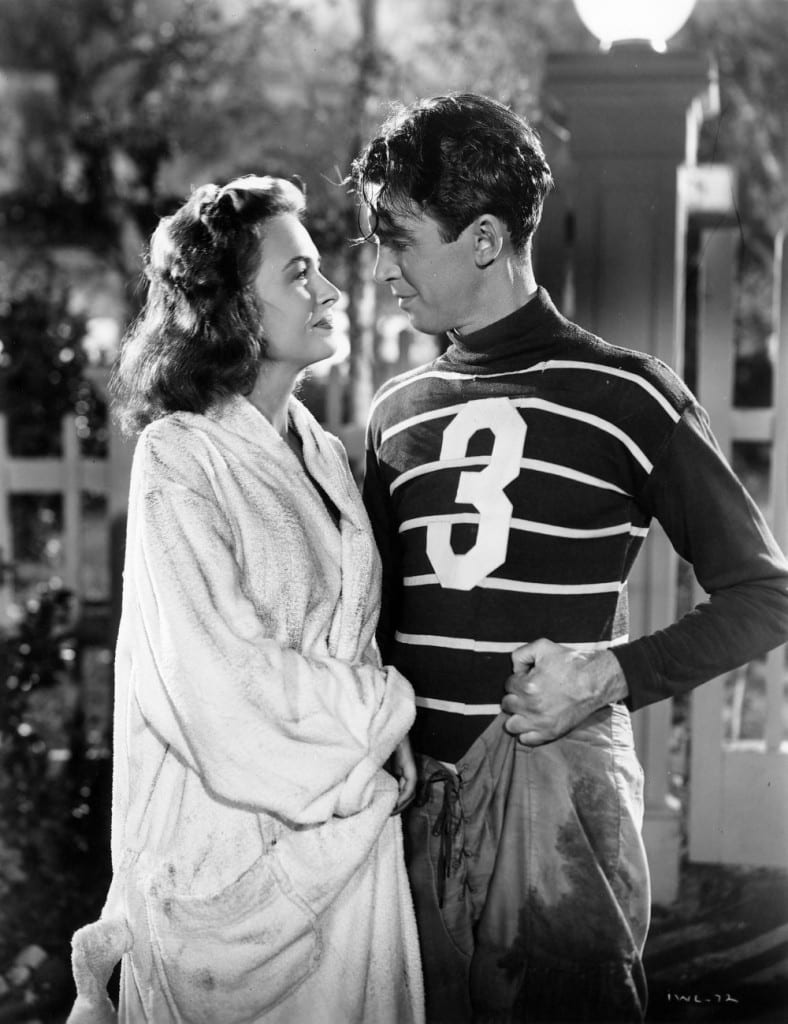 Dir: Frank Capra | Script: Francis Goodrich, Albert Hackett, Frank Capra | Cast: James Stewart, Donna Reed, Lionel Barrymore, Thomas Mitchell, Henry Travers, Beulah Bondi, Frank Faylen, Ward Bond, Gloria Grahame, H.B. Warner, Frank Albertson | USA  1946 130mins Comedy Drama
History might argue this was not his finest film, as Capra bestrode the 1930's like a colossus, previously winning Best Director at the Academy Awards no less than three times, but going away empty handed from this one, despite five nominations. Indeed, it was perceived as something of a flop upon its release, making a loss at the box office and marking the end of an extraordinary run of hit films and indeed an era, for Frank Capra. What however cannot be argued now, is the nascent and evergreen popularity of It's A Wonderful Life for filmgoers now.
Now an Christmas chestnut, it is only since the early Seventies, when Wonderful Life fell into the public domain, that Capra's unerring ability to portray emotional truth coupled with his absolute mastery of filmmaking as a craft enabled it at last to finally find its audience.
Quite aside from it being a staple Christmas movie and epitomising all that America stands for, what underlies is a Capra standard through and through containing surprisingly dark undertones for the day: A man George Bailey decides his life isn't worth living seriously and contemplates suicide but his guardian angel then leads him through what life in his home town of Bedford Falls would have been like if he hadn't existed. Tying this story in with the concept that any one person can effect change for the better in the face of overwhelming odds, and you have both a Capra classic and the recipe for some serious 'feelgood'.
In interview, Capra stated that he was against: "mass entertainment, mass production, mass education, mass everything. Especially mass man. I was fighting for, in a sense, the preservation of the liberty of the individual person against the mass."
Capra was born in Sicily in 1897 and came over to America penniless, in the stinking bowels of a ship at the tender age of six. He worked very hard, under terrible privation for many years; his father dying in a dreadful factory accident when he was just 15. But he also studied hard against the wishes of his parents, it must be said, but made good and then worked as writer, as an editor and even as an extra on many films, before finally getting a go at directing. He described filmmaking as akin to drug addiction; once it was in your bloodstream…that was it.
And a brilliant filmmaker he was. He made some extraordinary documentaries during the war and a string of feature hits, working with the biggest actors of the day, from Frank Sinatra to Clarke Gable, Cary Grant, Barbara Stanwyck and of course the great Jimmy Stewart. But he was also directly responsible for dragging the medium of film forward; just as the silent era was ending, he was changing the way films were conceived and shot, jumping characters in and out of scenes instead of waiting for them to walk in and out of rooms. Of overlapping dialogue to make it feel both more natural, but also picking up the pace of storytelling and again, moving away from the staged play. The Directors Guild of America voted him a lifetime membership in 1941 and a Lifetime Achievement Award in 1959.
Capra will always have his detractors; those that saw his brand of filmmaking too saccharine, but as he saw it, life was tough and cinema was the perfect place for escaping, if only for a short while. And it was by his focusing on the emotional and moral issues his protagonists faced; conflict between cynicism and the protagonist's faith or idealism, that has made this film in particular endure for so long with audiences. Well, that and Jimmy Stewart.
In short, be unmoved by this film and there has to be something wrong with you. AT
NOW ON