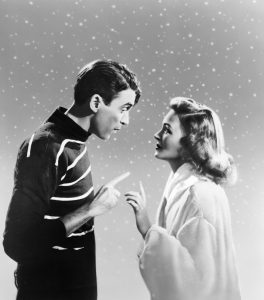 Dir.: Frank Capra; Cast: James Stewart, Donna Reed, Lionel Barrymore, Henry Travers; USA 1946; 130 min.
Director/co-writer Frank Capra wanted foremost "to combat atheism" when he filmed Philip Van Doren's 1939 novella The Greatest Gift in 1946. Later he acknowledged "the feature developed a life of its own", becoming everyone's favourite Christmas movie since about 1976. But on its release, critics were rather unkind – on top of it, RKO lost half a million dollars at the box office. Bosley Crowther of the NYT wrote: "the weakness of this picture is the sentimentality of it—its illusory concept of life. Mr. Capra's nice people are charming, his smalltown is a beguiling place, and his pattern for solving problems is most optimistic and facile. But somehow, they all resemble theatrical attitudes, rather than average realities."
Nevertheless Frank Capra's films always have a basis in reality and a moral tale to tell and despite the schmaltz, the reason this film is so universally popular, especially during the holiday season it that it endorses the important facts of life that we know are worth remembering: Don't give up; Appreciate what you have – you could lose it, and loved-ones are more important that material riches (yes, this is a difficult one!)
In the small town of Bedford Falls George Baily (Stewart) lives with his wife Mary (Reed) and their three children. George not only saved his brother Harry from drowning as a child, he also worked hard for the community and has spent his entire life sacrifices himself for others in a job he's never enjoyed doing. But it's only when he nearly loses his life, that he really learns to appreciate again.
As usual, the eventual cast was a long way from the original proposals: Before Stewart, Henry Fonda and Cary Grant where considered to play George, whilst Jean Arthur and Ginger Rogers were also in the running before Donna Reed got the part. In her autobiography Rogers wrote her refusal of the Mary role might be "foolish, you say?"
On the 89 acre set of the RKO ranch in Encino, dogs, cats and pigeons roamed freely. The Main Street was 300 yards long, the equivalent of three city blocks. At the Oscars in 1946, William Whyler's The Best Years of Our Lives swept the board, winning Best Picture (Samuel Goldwyn), Best Director for Whyler, Best Actor for Fredrick March and Best Editor for William Hornbeck. 
It's a Wonderful Life won in the technical category, due to the success of Russell Shearman. who invented a new method to produce artificial snow. Until then, this 'snow' consisted of cornflakes, coloured in white. But the crunching noise of the actors walking on the flakes, made re-dubbing of these scenes necessary. Shearman used water, soap flakes, foamite and sugar, to save the re-dubbing. DoPs were Capra regular Joseph Walker and the (then) very young Joseph Biroc, who finished his long and outstanding career for Wim Wenders' Hammett in 1982.
The last word should go to the FBI who wrote a memo after the premiere along these lines: "With regard to the picture It's a Wonderful Life, the film represented rather obvious attempts to discredit bankers by casting Lionel Barrymore as a 'scrooge-type' so that he would be the most hated man in the picture. This, according to sources, is a common trick used by Communists". Indeed. AS
NATIONWIDE and all over Europe from 30 November 2018