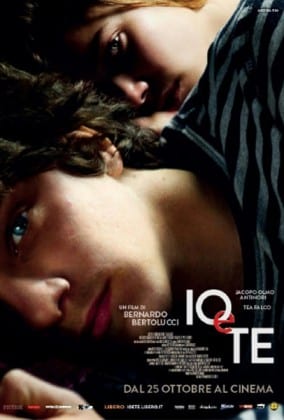 Director: Bernardo Bertolucci
Cast: Tea Falco, Jacopo Olmo Antinori, Sonia Bergamasco
96min      Italian Drama with subtitles.
Bertolucci resurfaced in Cannes last year with this very Italian two-hander, his first since The Dreamers back in 2003.
Set almost entirely in a poorly-lit basement, Io e Te is essentially a character study that focuses on two well-heeled but emotionally-crippled siblings.  Bertolucci is fascinated by Italian youth, and particularly the kids of well-off families. Despite bravado and stylishness, a gnawing vulnerability seeps through these two as they posture and pose in a effort to exude contemporary cool, flirting nonchalently with their nascent sexuality in a desperate bid to find a connection in their troubled lives.
Jacopo (newcomer, Jacopo Olmo Antinori) gives a thoughtful turn as a typical 'mammalone': or spoilt child, hiding out in the basement at home, on the pretence of being on a school skiing trip.  He seeks refuge here to escape his mother's suffocating attention. But his welcome solitude is ruptured by the arrival of his bohemian half-sister, Olivia, who appears in a state of cold-turkey and insists on staying and smoking her way through a packet of fags, much to Jacopo's irritation. Gradually these two fall into an awkward intimacy that borders on incestuousness and very much echoes Dreamers in conception. However, there's much less interesting character development here and none of the stylish gad-about fun and frolics although the production does have award-winner Franco Piersanti's pleasing score to help it along.
These are damaged kids and typical of a generation who somehow, through 'the sins of the father', have developed minor neuroses and narcissistic personality issues and both the leads give believable and well-drawn performances in a story that nevertheless feels claustrophobic and uncomfortable.  What could have developed as a fascinating foray into adolescence in the Italian borghesia becomes rather grungy and tedious after the initial stages and fails to lift off onto a really meaningful level despite a decent script (from a novel by Niccolo Ammaniti) possibly because of the unnappealing nature of the characters and physical and visual constrictions of the basement location,
As a study of half-siblings it just about holds the attention but at nearly two hours, it fails say anything that's fresh or exciting. When you think of the rich and complex work of Bertolucci: from Once Upon A Time In the West to 1900, The Sheltering Sky and The Last Emperor this is slight in comparison. So don't go expecting an epic: it's extraordinary that this great master is still with us, let alone making a brave attempt at continuing his film career. MT
[youtube id="qFHB8DLtRlo" width="600″ height="350″]
IO E TE is on general release from 19th April 2013