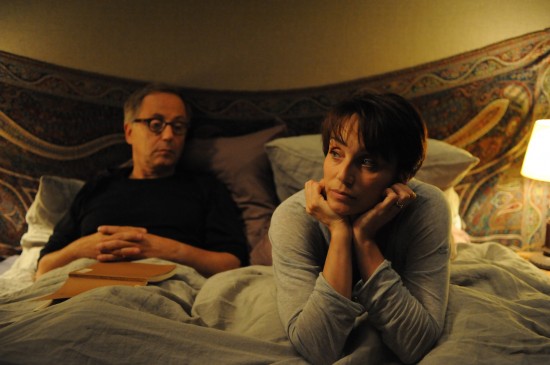 Director/Screenplay:   François Ozon  Juan Mayorga (original play)
Cast: Kristin Scott Thomas, Fabrice Luchini, Emmanuelle Seigner, Ernst Unhauer
97mins      Drama      French with Subtitles
François Ozon is a master of the dark domestic drama inhabited by clever, feminine women who always have the upper hand such as Potiche (2010), 8 Women (2002) and Swimming Pool (2003).  He once declared his muse to be Charlotte Rampling and over the years has cast the crème de la crème from Catherine Deneuve, Valeria Bruni Tedeschi and Jeanne Moreau to Ludivine Sagnier, Emmanuelle Béart and even Isabelle Huppert. His latest release has echoes of Chabrol: it's a sardonic, rather outré tale of sophisticated French provincials with a superb cast headed by Fabrice Luchini and Kristin Scott Thomas.
Kristin Scott Thomas is a natural as the chic but frustrated art curator wife of Fabrice Luchini's Romain, a French literature teacher bored by his pupils' lack of imagination in their written work.  One exception is Claude Garcia (Ernst Umhauer), a teenager emotionally intelligent beyond his years.  For homework, he writes about his exploits at schoolmate Rapha's house in a tone that makes the prof prick up his ears in fascination and even envy, awakening dormant memories of his own failed writing career.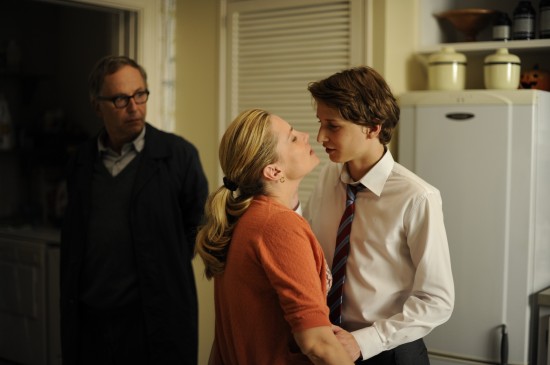 Ozon's latest outing is a tightly-plotted and smartly-scripted affair with captivating performances from Luchini and Kristin Scott Thomas who interact gracefully as a seemingly contented married couple who eat dinner and queue for the cinema together; each harbouring an agenda that's completely covert until the final dénouement.  Emmanuelle Seigner, who is in real life married to Roman Polanski,  is an interesting choice for the role of Rapha's mother, a bored suburban housewife who flicks through magazines all day waiting for her bumptious husband (Denis Menochet) to come home. Watching her quietly on the sofa, it's difficult to eradicate from the memory her glowering turn as a sex siren in Bitter Moon (1992) or as Michelle in Frantic (1988). Newcomer Ernst Umhauer is perfectly pitched as the sensitive but subversive schoolboy whose difficult childhood forces him into fractured adulthood well before his time. MT
IN THE HOUSE is showing on general release from 29 March 2013.  Read our interview with Francois Ozon.