Director:  Tony Siddons
Cast: Tony Curran, Lyndsey Marshal, Jessica Barden
87mins     Fantasy drama
It's difficult to make a horror story that's rooted in plausible reality but Alastair Siddon has succeeded here with this supernatural sink drama.
It features Jessica Barden (Tamara Drew) as Marie a sensitive teenager with a vivid imagination whose mother (Lyndsey Marshal) has a penchant for paint-stripping in between bouts of black depression.  Fatherless Marie develops a pseudo-sexual hang-up for Filthy (Tony Curran) the man next door whose hobby is hunting rabbits in the nearby woods.   But everything turns pear-shaped when Filthy's toddler son Sean is found dead while she's in charge of the babysitting and Filthy's desperation leads to a final tragic twist.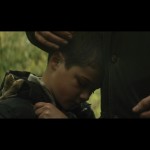 Chilling sound design and black magic imagery combine to evoke a unsettling mood to this haunting and well-acted feature which has  shades of The Sixth Sense.
In the Dark Half was the first film to go into production under the umbrella of South West Screen's iFeatures digital filmmaking scheme, the BBC Films and Bristol City Council backed 'micro-studio' initiative with the aim of harnessing cutting-edge digital technology and low budget production methods in the Bristol area.
Meredith Taylor ©