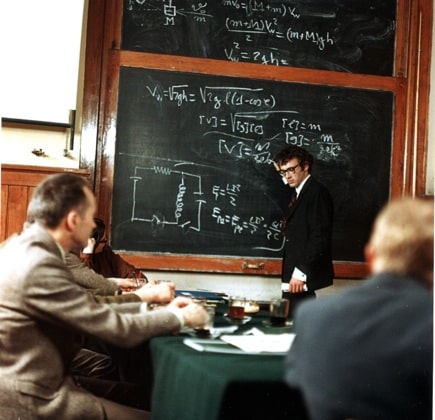 Director: Krzysztof Zanussi
Script: Krzysztof Zanussi
Cast: Stanislaw Latallo, Malgorzata Pritulak, Monika Dzienisiewicz-Olbrychska, Edward Zebrowski, Jan Skotnicki, Irena Horecka
Poland  1973 87mins Drama
Seminal, groundbreaking work from Zanussi, following on from Struktura Krysztalu, Pretty much every film he made went on to win at some prestigious festival or other and Illumination is no exception, taking down the Grand Prix at Locarno and Best Film at the Polish Film Festival, amongst others.
Illumination is an unapologetically male film and no doubt somewhat autobiographical; Zanussi studied Physics at Warsaw Uni before going on to graduate from that pinnacle of European moving image education Lodz Film Academy in 1966.
Charting the life journey of one Franciszek Retman, played with handsome geeky brilliance by Stanislaw Latallo. Retman a young student aspiring to study Physics at Warsaw Uni, falling in love for the first time, then the burgeoning comprehension of the reality of life in all its complexities as it tumbles along at a speed reserved for those still young enough to believe themselves immortal.
It's a beautiful film, shot in a brave, new style yet to make its mark on the rest of the world, but emulated by film students the world over ever since, which is why it may feel so familiar stylistically to viewers now. But it is also alot more than that, covering as it does all the way back in 1973 the very contentious subject of Electric Shock Therapy (or ECT), then combining this with the efforts of one man to find himself and a sense of peace in the chaos that is Existence.
Fine, unfussy but atmospheric cinematography from Edward Klosinski and a terrific score from the prolific talent that is Wojciech Kilar, composer of over 160 scores, including Death & The Maiden, Ninth Gate and The Pianist for Polanski.
This has cinema vérité meeting heavily stylised elements head on, cartwheeling forwards with a breathless kinetic all of its own, reflecting the energy of the protagonist as much as his story. When Illumination first came out, it was heady, revolutionary stuff, the impact of which we really haven't witnessed since.
A treat then that through the Polish Cinema Classics strand, this Kinoteka film festival is giving us a rare chance to rediscover what made Lodz Film Academy the choice of film school for generations of filmmakers.
What appears to be at first a dense impenetrable tome in the end reveals itself to be a simple, very eloquent and poetic piece. Don't miss. A Rajan
ILLUMINATION IS SCREENING AS PART OF THE 7th KINOTEKA POLISH FILM FESTIVAL 2015 | READ OUR INTERVIEW WITH Krzysztof Zanussi