[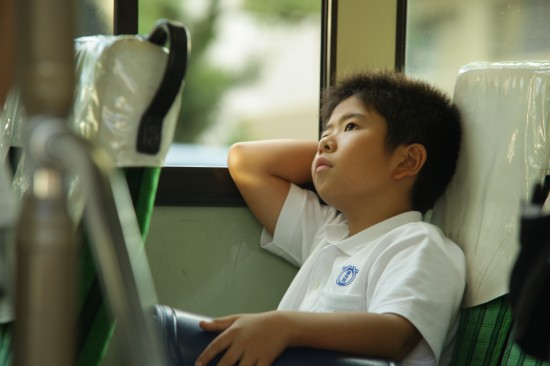 Director:Hirokazu Kore-eda
Script:Hirokazu Kore-eda
Producer:Kentaro Koike, Hijiri Taguchi          
Cast:Koki Maeda, Ohshiro Maeda, Ryoga Hayashi, Cara Uchida, Kanna Hashimoto, Rento Isobe, Hoshinosuke Yoshinaga
Japan                               128mins                     2011               Drama
I Wish, Or 'Miracle', more literally translated, has already done a good slew of top tier international festivals bagging along the way a nice clutch of awards, including Best Screenplay at San Sebastian and a Special Mention at the Hong Kong IFF, hence it's relatively tardy arrival in British cinemas. However, it is certainly worth the wait.
Following on from his superb 2004 title, Nobody Knows, which also blazed a trail across the festivals, Kore-eda cements himself as an extraordinary talent at directing children, eliciting naturalistic and wonderfully engaging performances.
Having written a script for I Wish, Kore-eda went off in search of his cast only to discover the two real-life Maeda brothers who were also comedians. Having met them, he tore up his script and completely rewrote it to reflect and complement his find. It was time well-spent 
I Wish is a real slow-burner, taking time to reveal its purpose, but loses nothing in the doing. 12-year old Koichi is living with his mother, living apart from both his father and his much-missed younger brother Ryunosuke through his parents acrimonious divorce. However, his imagination is captured by the new bullet train, about to connect his city of Kagoshima with Fukuoka, home to his estranged brother. 
The film explores the lives in minutiae of these two separated boys and how they cope in their new disparate worlds; their friends and the stresses and strains peculiar to kids; how they relate to each other, their dreams and their aspirations. The gang of wonderfully engaging youngsters are backed up by an amazing older cast, including Joe Odagiri, Nene Ohtsuka, Isao Hashizume and Masami Nagasawa.
As I watched this universal story, told with such simplicity and clarity so often difficult to recreate with child actors, I not only pondered on how poorly it might be remade by Hollywood, but also, as the film unfolds, how the events simply couldn't happen in America as they do here in Japan due to the cultural differences.
The very things that draw you to this film- and since Nobody Knows, I am already a huge fan of Kore-eda – would be so absent from an American mainstream remake. It is entirely devoid of schmaltz, sentimentality or over-statement and its final message both a surprising and an interesting one.
As with all the best in arthouse film, this is an elegant essay and insight into humanity and is sure to delight those left high and dry by more populist fare. AT