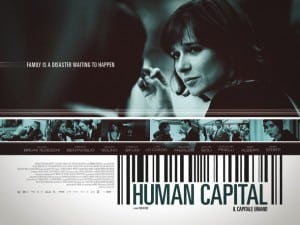 Director: Paolo Virzi
Cast: Fabrizio Bentivoglio, Valeria Bruni Tedeschi, Fabrizio Gifuni, Valeria Golino, Matilde Gioli, Guglielmo Pinelli, Giovanni Anzaldo
Italian with subtitles   Thriller
Writers: Paolo Virzi, Francesco Bruni, Francesco Piccolo based on a novel by Stephen Amidon
Paolo Virzi is best known in Italy for his savvy comedies (Caterina In The Big City), but there's nothing to laugh about in this slick character-driven whodunnit that brings the lives of two families into sharp focus after a tragic road accident in the affluent northern city of Como.
Based on Stephen Amidon's novel, the main reason to see this intelligent and well-dressed thriller is Valeria Bruni Tedeschi's elegant turn as the wife of a wealthy hedge-funder experiencing heavy losses on the markets. Although she glides around in furs and stratospheric heels as Carla Bernaschi, she is also the vulnerable and appealing mother of spoilt son, Massimiliano, and demanding husband Giovanni (Fabrizio Gifuni) often finding it difficult it to decide between a manicure or a chauffeur-driven trip to Prada. But when 'Giova' gets involved with an unpleasant social climber, Dino Ossola, who mortgages his house to buy into the Bernaschi's hedge fund, life becomes more complicated for everyone concerned. Dino's wife, Roberta, (Valeria Golino) discovers she's unexpectedly pregnant with twins causing Dino starts to try and extricate himself from increasing funds losses. Meanwhile his daughter Serena (Matildi Gioli) is dating Massimiliano but has recently fallen for another boy from the wrong side of the tracks.
One snowy night a complex mix-up in events leads to the fatal accident but the identity of the culprit is not revealed until the final denouement. Using a clever device of telling the film in four chapters, each from a different character's point of view, Virzi's tightly-plotted thriller works extremely well as a gripping drama and a treatise on social politics in contempo Italy. Looking back at the fateful night of the accident that takes place while the characters are sharing a table for the school awards ceremony, each character's viewpoint cleverly reflects a different aspect of society; from the wealthy but sexually frustrated Carla, to the gauche and greedy Dino so obsessed with making money, he doesn't realise how ridiculous he looks and his hard-working pregnant wife, The teenagers, meanwhile, give a more edgy insight into the street life and crumbling public face of Italy. Italians wear their money on their backs and social status is reflected here in this provincial dynastic community by displays of wealth in the form of chauffeured limos, uniformed domestic staff and the chic interiors of the Bernaschi home as they vy with other well-known local families to give a good impression, but their social etiquette and thinly-disguised manners soon give way to bitter exchanges when the chips are down. In contrast, the struggling middle-classes are desperately fighting for survival in the crumbling infrastructure of a country already on its knees. MT
The term "human capital" refers to an accident victim's net worth in compensation claims.
On general release at selected cinemas from 26 September 2014 and dual format from 29 September courtesy of Arrow Films and Video