This collection from one of Germany's most celebrated modern film directors kicks off with Heart of Glass
Directed by Werner Herzog with a cast of Josef Bierbichler, Stefan Guttler, Clemens Scheitz, Sonia Skiba, this slice of German Gothic Horror is based on a story by Herbert Achternbusch.
HEART OF GLASS offers a distopian vision of the future. In tribute to his beloved Bavaria, Herzog set most of his film here in a small village in the depths of the forrest, at the beginning of the 19th century. In the opening sequence a mesmerising time-lapse sequence of clouds moves slowly through the valley like a velvet river, portending gloom (the scene took Herzog 12 days to shoot). The downfall of humanity and the industrial revolution is encapsulated in this gloom-filled microcosm in the Black Forest, uncannily predicting the demise of the manufacturing industry: it is a narrative with universal implications; both ancient and contemporary.
To achieve the otherworldly atmosphere and trance-like performances, Herzog put most of the cast under hypnosis including the shepherd who delivers doom-laced prophecies to the locals.
The story is unremittingly grim, enigmatic and inconclusive and the atmosphere gives us all we need to know and understand about this simple tale of woe that concerns the backbone of the community: a glass factory.
The talented craftsman and foreman, Muhlbeck, has just died and with him dies the secret of the famous ruby glass. All efforts to recover the special ingredients fail. The local baron becomes obsessed with the ruby glass and its purported magical properties and gradually goes mad, and the villagers are plunged into utter despair and depression, gradually losing the will to live as a result of their aimless existence, they turn into zombie-like creatures. Hias (Joseph Bierbichler – the only cast member not hypnotised) remains positive but predicts events that appear to mirror those of the 20th century and beyond.
Mesmerisingly slow and weirdly hypnotic: this is a powerful yet somniferous film that grips from the opening sequences, particularly the scene where two friends quarrel and fall drunkenly from a hayloft, where one dies. As the other dances with his friend's body, he sings out the extraordinary line: "I'll sleep my hangover off on your corpse" With its dismal interiors and shadows, it paints a bleak and desolate community. The performances are ghostly, evoking an uncanny ambiance not similar to that of Carl Dreyer's Vampyr (1932). 
The final scene was shot in Skelling, Ireland and shows a man looking out to see from the mountains. Men are seen rowing furiously out to sea with birds following them but gradually they lose sight of the land. Whether this is positive or negative is difficult to fathom. Should we recklessly embrace the future (doom or success) or wait silently for it to come and get us. Herzog is a filmmaker of infinite ambition who embarks on projects with the gusto and tenacity of Stakhanovite (both Fitzcarraldo and Aguirre spring to mind), so no doubt he would chose the former. MT
FATA MORGANA Germany | 1971 | colour | 74 mins
Even for Herzog, the master of the surreal, FATA MORGANA was an out-of-this-world experience, literally. Based on a sci-fi novel, this documentary is shot by "aliens" who visit our planet – East Africa, to be precise. We see many animals; dead and alive – planes starting and landing and people doing everything people do. The film historian Lotte Eisner (a close friend of the director) reads the Mayan version of the history of creation, and the music of Johnny Cash and Leonard Cohen helps to transcend reality even more. All the images shimmer, nothing seems real, Herzog's earth is home to an enigmatic species. All shot with a stolen camera, as the director proudly admits.
LAND OF SILENCE AND DARKNESS | Germany | 1971 | colour | 81 mins 
Shot with a static camera, this documentary introduces us to the world of the Deaf/Blind; centred around Fini Straubinger (56), a woman who, after an accident in her childhood, lost her sight and hearing. After learning the Lorm alphabet, a manual alphabet and only way of communication for these suffering from this double-impairment, she teaches others and takes her students out into the world – even on a plane journey. She shows Herzog how much enjoyment is still possible, but also the limits of their existence: "If you let go of my hand, it seems that are thousands of miles between us". Extremely moving.
STROSZEK | Germany | 1977 | colour | 133mins
More or less the real-life story of the main protagonist Bruno Schleinstein (1932-2010), an actor and musician with mental health problems, who was earlier the star of Herzogs's "Kaspar Hauser" feature film in 1972. Here Bruno S. plays a Berlin musician who lives on the margins of the city (and even sounds like Kaspar Hauser) and plans to rob a bank with friends. Finding the bank closed, they rob a hairdresser instead, spending the money at the supermarket opposite. Fame did not last long for Bruno S. and he complained later "that everybody abandoned me". He never acted again but started painting.
WOYZECK | Germany | 1979 | colour | 77mins is the third of five Herzog films featuring the actor Klaus Kinski between 1972 and 1987. WOYZECK was shot more or less directly with more or less the same cast and crew after NOSFERATU: Phantom Der Nacht. this was the most peaceful co-operation between the director and the star who had a permanently strained relationship,. Perhaps everybody was too exhausted (particularly Kinski after his magnificent portrayal of the vampire), or perhaps the short shooting schedule (18 days) asked for discipline, but Kinski played the proletarian victim of a class-ridden society with great restraint. Strangely enough Herzog scores the film of Büchner's play of the same name with music by Beethoven and Vivaldi – very much at odds with scenes like when Woyzeck's doctor is throwing a cat out of his second floor window, who, caught by Woyzeck, promptly empties her bowls on him.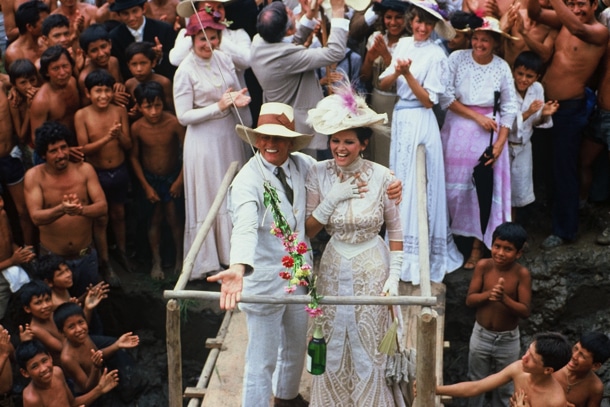 FITZCARALDO | Germany | 1982 | colour | 152mins | is based on the life story of the Irish business-man and adventurer Brian Sweeney Fitzgerald, who tried to introduce opera to Peru in the 1890s. Jason Robards played the title role, but was taken ill after forty per cent of his scenes had been shot. After recovering from a heavy bout of dysentery, Robard's doctor forbid him to resume working. Herzog tried to hire Jack Nicholson for the part, but he declined. Against his better judgement, Herzog went back to cast Kinski, who is on his best behaviour, entranced by his co-star and on screen lover, Claudia Cardinale.
But behind the scenes Kinski soon became engaged in fights with the film crew and the native Indians, who worked as extras. The native chief even offered to kill Kinski, to protect the director but the Herzog declined. In one scene, the natives are watching the white men at meal-times, and their angry comments are particularly candid in their aggressiveness, since they are directed at the despised Kinski.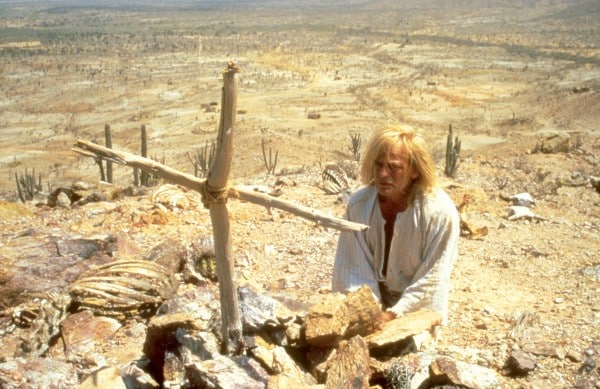 COBRA VERDE | Germany/Ghana | 1987 | colour | 106min |  is the last of Herzog's collaborations with Kinski. Based on a novel by Bruce Chatwin, it tells the story of a deranged Brazilian rancher (Kinski), who collides with the law and turns into the fearsome bandit Cobra Verde (Green Snake). He is later commissioned to re-open the slave trade with Ghana. Not surprisingly, Herzog and Kinski fell out even before shooting started: Herzog chose Ghana as one of the locations, whilst Kinski travelled to Columbia and insisted on that as a location: "Herzog does not know that I give life to dead scenery". During the shooting, Kinski openly attacked Thomas Mauch, the DOP, who left the production and had to be replaced by Victor Ruzicka. Twelve years later Herzog would release a documentary charting heir creative but tumultuous relationship in MY BEST FIEND (My best frenemy). 
THE BFI SET COMPRISES:
The Unprecedented Defence of the Fortress Deutschkreuz (1967;
Last Words (1968);
Precautions Against Fanatics (1969);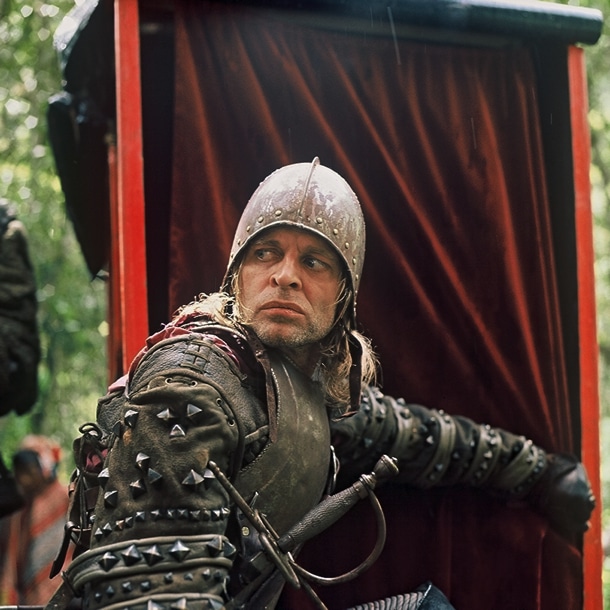 Handicapped Future (1970);
Fata Morgana (1971);
Land of Silence and Darkness (1971);
The Enigma of Kaspar Hauser (1974);
The Great Ecstasy of Woodcarver Steiner (1975);
Heart of Glass (1976);
How Much Wood Would a Woodchuck Chuck (1976);
Stroszek (1977);
THE WERNER HERZOG COLLECTION IS RELEASED ON DVD AND BLU-RAY at THE BFI | LAND OF SILENCE AND DARKNESS IS ON MUBI