Dir.: Michal Rosa | Cast: Karolina Gruszka, Dariusz Chojnacki, Agata Kulesza, Dorothea Segda, Andrzej Konopka, Krzysztof Stroinski | Poland 2016, 98 min
Best known for his Karlovy Vary winner Silence, Michal Rosa's latest drama is set in the Southern Polish region of Silesia where the male occupants of a block of flats are obsessed by the charms of a beautiful Jewish woman. This is an enigmatic tragi-comedy that takes place in two parts: the first opens shortly before the outbreak of the Second World in the Summer of 1939, and the second, after the War is over.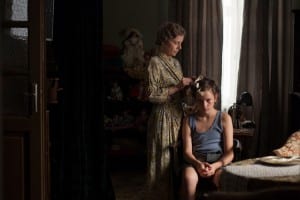 Roza (Gruszka) is no femme fatale: she unwittingly becomes the focus of the sexual longings of her male neighbours; her only wish is to make men happy. The elderly neighbour downstairs hangs on her every word, when he is not tending to his orchids. He will later move into Roza's flat, to be close to her in spirit. Then there is Rufin (Chojnacki), a mathematical genius, who works as a liftboy in a hotel, but has a very limited imagination: he tells everybody, including his wife Klara (Segda) and sons Emil and Kamil, that life is simple, just a question of 'getting from A to B'. Later Kamil will have a fatal bike accident, and Klara will punish him forever. When he first sets eyes on Roza, who introduces him to dancing, he is positively enchanted to discover that you don't always have to go from A to B to achieve success. Gertruda (Kulesza/IDA) keeps her family's Jewish identity under wraps, along with that of her son Tomasz (Stroinski). But her husband Konrad (Konopka) has gone a step further: he lives and works in Germany, pretending to be of Aryan descent. His sister Gertruda is in a psychiatric hospital – and he has plans for her to be put to death: "The time has come, to decide who should live, and who is only a burden." Tomasz is forbidden to speak Jiddish, but when he meets Roza, he suddenly remembers his identity, making his mother furious. After the invasion of Poland by the Germans, Roza is summoned to the Gestapo Office, but now none of the tenants want to help her – apart from a man living in the basement, who has written a famous (imagined) Baedeker guide, describing places all over the world he has never visited.
HAPPINESS OF THE WORLD is sometimes is too opaque for its own good, so just sit back and enjoy the madcap story with its endless twists and turns. Marcin Koszalka (The Red Spider) serves as the film's DoP evoking a stunning world of sumptuous visual images where Katowice is one of the main characters, along with a brilliant ensemble cast. AS
KINOTEKA POLISH FILM FESTIVAL 17 MARCH UNTIL 5 APRIL 2017